Saturday
It's Saturday. 6:40 am I'm awakened from a much needed, deep sleep by the sound of my two year old twins laughing like little hyenas. I'm not awake by any stretch of the imagination, but even so, I know this much…
It's gonna be a long day.
I pull the covers up, grab two pillows and cover my face in hopes that the damage is not bad enough to warrant me actually crawling out of bed yet. It's too late. My six-year-old son bursts open my door with his famous "mama! You have GOT to come see this". Honestly, he's pretty good at not crying wolf. The sight of his sisters covered in maschera, might cause a normal boy his age to run for his mama in crisis mode. Not my son, he knows the difference. So I know, prolonging the lecture to the twins will do me no good, and avoiding this situation might just make it worse.  I roll out of bed. Take his hand and follow him to the kitchen. Mira and Izzy, happy as can be are throwing raw eggs on the kitchen floor. "Mama!!! Mama!!! You hear that splat???" Izzy asks, too proud of herself for even her own good.  Yes.  I do. Thanks for pointing out that when 6 raw eggs are hurled to the floor by a 2-year-old that should be a major league pitcher…they do in fact make a "splat".  Nice work!
"No!! No!!! NO!!!"
The only words I am truly famous for in our household.
I am still literally asleep. Eyes barely open. I hurry them out of the kitchen, go about gooping up our uncooked breakfast. They are covered, why wouldn't they be? I'm simultaneously brewing a huge pot of coffee that at Starbucks would be considered dark espresso. No question. I drag my ass to the bathroom wash my face with cold water. Slap my cheeks. Brush my teeth. Slowly letting my few good hours of sleep go. When I return, the kitchen is filled with the world's best aroma…freshly brewed coffee. As I reach for my mug and the coffee pot, I notice that my girls have found two butter sticks and are painting each other ever so gently with them. They are not malicious.  They are not naughty. They have just never painted themselves with butter before. How else would you know how that feels? Or if it's in fact a good idea? Unless you try. "You never know till you try" I always tell my son, they must have overheard.  I completely get it.  But alas my tag line escapes me, yet again. "No!! No!!! NO!!!"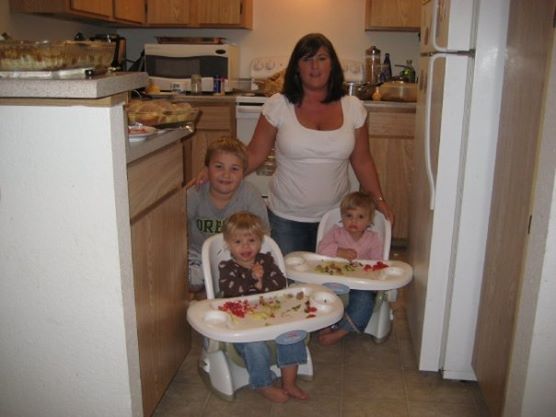 Raising twins on your own is just such a different experience from raising one , or small children close in age. Trust me, if you had kids 10 months apart, they still are NOT twins. Contrary to everyone who likes to think , that if their kids were born within two years of each other, that's the same as having twins! (believe me, daily I hear this from strangers). I am here to set the record straight. It is not.  I don't know how to quantify it. One child would never have the brilliant idea of getting a cube of butter out of the fridge to cover their body with. But two? Two is a whole different story. I have no idea where they get these plans or who pulls the trigger, all I know is that every plan is executed in under 2 seconds flat! They are masters at finding Sharpies when I didn't think I had any. Wizards at red nail polish on white carpet. Gothic little monkeys with a maschera wand. And just plain curious wondering if the red couch could possibly love humus the way they do.
Today is Saturday and I need to think fast how to entertain them all day. It's now 7:30 am and breakfast has been consumed, they have been washed up twice and my son is ancy as hell. Off to the gym, aka my saving grace! They love it. I love the quiet and hard work it brings. Usually I try to get my workout finished in about an hour. The time limit on the place is 2. Today you will have to pry me off the treadmill at 1:59 minutes!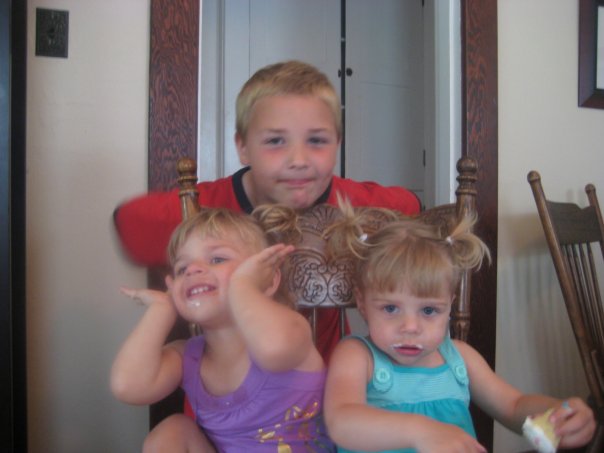 So now it's almost 10:00 am we're doing good. Found a way to make it through the morning with everyone intact, fed and happy. The sun is out. Portland in September, I know this is a limited time opportunity, so I suggest going to the beach as we drive home from the gym. I get a deafening, resounding , three children scream/chanting "Yes! Beach! Yes! Beach! Yes! Beach!" Done deal! If ya'll can bring it down a notch! I've been talking like a southern bell all morning, the girls love it, Kanen wants to claw my eyes out!
I double park out front, turn the flashers on and sprint into the house to pack lunches, grab spare clothes, towels, bottles, beach toys and a protein shake for me. I stumble out of the house, in under 5 minutes, arms bursting with stuff. I change both girls in the car, knowing they will sleep on the 2 hour ride, and hand them a bottle. Give Kanen the movie player and some head phones, hand him the sandwich I just made. Pull out for the drive, gulping a protein shake and listening to Rick Ross, winding down as we head into the country and everyone settles in for the drive.
I'm selfish.
I know this.
This drive is purely for me.
At the beach we unload. I made the huge mistake of dressing the girls identically. I almost never do it. For whatever reason today, they match from head to toe. I say mistake, because it's difficult to describe how much attention they get when we go anywhere and their not dressed alike. But when they are, it's obnoxious. It's kind of like a red Ferrari. Everyone's seen one before, but when you watch it pull up, you cant help but stop and stare.  It's been like this since birth. Trust me. I don't get it. Twins are everywhere, (1 in 40 births to be exact). But identical twins are 1 in 100 set of twins, maybe that's it. I don't know. Whatever the reason I've come to expect, (especially now that I do everything with the 3 kids alone) that we will be the center of attention wherever we go.  When we walk down the sidewalk, every single person we pass will look. Most will comment to each other or me. I stay focused on the task at hand and the people right in front of me, I try and smile. But when I look up most everyone is stealing glances our way. I keep my sunglasses on and power them through the busy sidewalks.
Izzy is my little ham . She's a showgirl. She has learned at two, how to draw and work a crowd. In the cross walk, she stops to dramatically throw her hands in the air in mock "stop car, it's me Izzy crossing! Wait!" She scolds everyone, even cars. She draws laughs from anyone who caught this display and I can't help but crack up as I heard her across the street.
Because of this, I always feel the pressure.
Like heat on the back of my neck.
Because everyone is watching, it's like parenting alone but under a microscope. We are a sight. There is no ignoring us. They are such good girls. They are happy, funny and obey well. Maybe that's what attracts people so strongly to them. And thank god too! It would be awful if they were the type of kids that threw fits. I don't think they have ever thrown a public fit. That would be like a car crash…all the lanes of traffic slowing to a halt to watch the devastation unfold. I shudder to think!
At the beach, they frolic in the surf and once again poor Kanen is board. But he quickly finds a play mate to build sand castles with, and I watch them with my feet ankle deep in the cold salt water. The beach is short lived in our world. We kill an hour getting covered in sand and soaked to the bone, before everyone wants to ditch this idea in favor of lunch.
Thank god for SUV's and the lift open back . It doubles well as a changing table/bath/dressing room. It takes me a good 15 minutes to change and clean all three into dry outfits. By this time, the "I'm hungry!" has turned into a steady fuss. We walk, holding hands through the streets searching for something quick and good, settling on a nice little Italian pizzeria. There are no outdoor seats for the per-slice area, so we cram into a tiny table in the back of the restaurant. We sit next to a couple, probably on their honeymoon or trying to escape their own children. Their quiet lunch just got a little louder.
But I'm beaming with pride at my three monkeys. They all sit rather quietly, patiently waiting for our server and their order to come. The couple laughs when I opt for a beer rather than pizza. I laugh too. They are impressed when Mira burps, followed promptly with "excuse me please!" Three tables away, laugh at that one. The whole restaurant watches as my beer arrives and the kids with their soda and milk cups all "cheers" me with a big "salute!" followed by 4 more, just to be sure we got it right!
I should probably feel guilty, but I don't. After pizza we head across the street for the much anticipated payoff of the lunchtime bribe, ice cream. I'm about lose their attention span in a 15 min line with a million people stretching out the door. All they really want to do is play with the puppy out front and are refusing to stay in line. Bribe is wearing thin.  At last we each have our little cones and go out front to sit on the steps and people watch. Only the people are watching us.
More and more of them in fact. Mira and Izzy are dancing on the sidewalk, with their faces covered in chocolate ice cream. Kanen and I are cracking up at them as Mira tries to copy Izzy's moves…they are really shaking it! I look up, a crowd is gathering. I'm not kidding. Izzy knows it and turns on the charm in full force, shaking her little rear end. I snatch them up, say that's enough. Wipe their faces, hands, shirts and legs, head back to the car.
It's 4:00 pm and we are settling in for the nice 2 hour drive home. I'm so tired. Really, really tired. When we get home, it's time to make dinner. Give baths. Clean house. Do laundry. I have an earache for some reason that has turned into a headache and swollen glands. Bed is the only thing I can think about. But it's still three hours away.
Now….
What the hell are we gonna do on Sunday?