Pinch Me!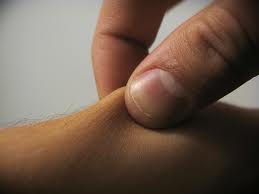 Pinch Me!
I'm feeling pretty incredibly blessed at this moment in time. Sometimes it's so hard to believe that when potentially devastating or negative things come our way, that anything good could possibly come from it. But at this point in my life I can honestly say, I do believe that everything happens for a reason. That it does all work out for good in the end.
That's so damn reassuring! To actually BELIEVE that. Like really, I don't question it. I cant tell you how much stress that took off my over-taxed brain. The stress of always trying to have the answer. Always have the solution or the plan, trying to predict the end result, all that crap. Gone.

I'm not saying I don't plan, come on now I'm a single mom of three! My life is pretty planned out. I'm also not saying I don't have goals and a clear vision of where I am going and where I want to be. In fact, I probably have that more obsessively mapped out then most. But I'm saying that I no longer STRESS about any of it. I don't, I swear! I have total and complete faith that it will all come in due time. I have no clue how, I just KNOW it will. I know the road will be unpredictable, so why stress continuously about it? Just let go, believe, and get on with enjoying your life!
I'm so grateful at this moment. I'm in a place that I really never thought I'd be. It's a Pinch Me Moment. The kind we are taught as children to NOT enjoy because it will jinks it, as if we are not worthy to enjoy happiness. Screw that!! Happiness is fleeting moments in time, and I'm on a mission to capture and celebrate and uplift every last one that comes my way! I kinda feel like a little kid in a candy store. I pray I never loose that. I've been in the dark place, ain't no way I'm going back there!
Today was a great day. I took my son to school, totally stress free in essentially my jamies with some piping hot coffee in hand. No mad dash out the door. No half hour trying to find something to ware. Just easy convo with my 8 year old.
Then lots of kisses for my girls as they showed me their freshly completed art projects with beaming smiles. Lunch listening to their bubbling laughter and silly chatter about farts and princesses. Kisses for nap, hugs after. Conference calls and meetings, then a run with my son. Just him and I.
Now that's a day!! The kind I've been waiting for 🙂
But anyone who knows me would agree that…..I gotta put my heels on and go kick some ass in the city too! So that's why I feel so lucky! I'm off to Chicago, MN and NYC next week. London, LA, San Francisco, NYC, Houston and DC next month.
This is only possible because I have the worlds BEST nanny/GF/"wish I had a husband like that"/right hand. She's been part of our family since the girls can remember and supports me when I travel and backs me up when I'm here. Did I mention I feel really blessed?
Now….if only I could date a plastic surgeon for 3 or so months then shit would really be great! 🙂 In time…all in due time.
~Written by Sarah Centrella