Divorce: Can't We All Just Get Along!?
Why is divorce so damn annoying? I mean seriously. How is it that two people who once were so deeply in love can go from that, to MORTAL enemies? It's so strange to me, honestly. Its crazy because no where else in life are you forced to interact with someone on a regular bases that you simply destine. It's like a bad joke! The tension is ridiculous and it's been three years of separation and two since the divorce was final and still communication is impossible! Cant we all just get along!!?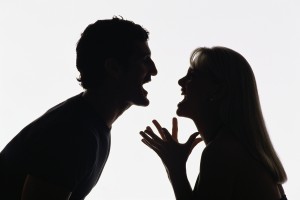 I put it behind me years ago and have moved on to a very happy mental place where I'm honestly grateful for that situation and believe it was the Universe delivering me my life back, so no hard feelings here! But he still cant even look at me! I don't get it.
But what is more frustrating than anything for me is that, day in and day out I'm a full-time parent and I'm here for my kids, as a parent should be ALL THE TIME. Not just when it works in my schedule. But no matter how many times he lets them down, when it comes down to it, the kids are just so happy and grateful for the little he does do that it makes it seem so huge.
I cant help but feel sad knowing all the different things I have done with just my son, so that he could get some one on one time doing something he likes, only to be totally upstaged by his dad spending one hour alone with him. I so desperately want for him to have his dad in his life the way that little boy deserves. Want him to come first in his dad's life, not last. It breaks my heart as a mom to see the disappointment when he is let down. But it's hard to to see that it takes so little effort on his dads part to get that kind of joy, yet it's still not a priority.  I cant get my head around it.
I don't mean to sound sorry for myself, but there must be other single parents out there who feel like I do; that you give 100% to your kids everyday and you see the unappreciated side from them more often then not, cuz your just mom/dad and that's what you do. But then the parent who's never around swoops in for one grand gesture and you see the beam on your child s face that you've gone so out of your way to try to put there on a regular basis.
I guess when it comes down to it, the parent who left will always be the more mysterious one because they are absent. So the comfort is in knowing that I'm here for them on the bad days and good, and that I'm the one they rely on so I guess it stands to reason that it would be a "given".
Still sucks.
---
Sarah Centrella is the author of the book Hustle Believe Receive which teaches you how to apply the #HBRMethod to change your life and live your dream.
Follow on social media: Instagram | Twitter | Snapchat | Pinterest | YouTube |Periscope @sarahcentrella
---