Nurture Wins Out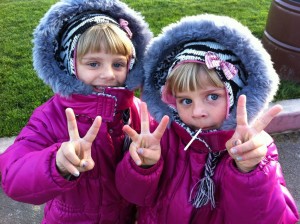 My silly girls..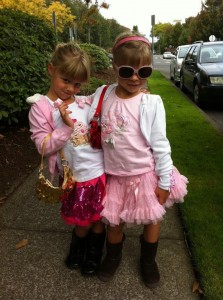 My little divas!
In keeping with my belief that Everything Happens For a Reason I had another recent epiphany (love those!).  This time it was about my beautiful little twin girls. They are the loves of my life along with their older brother, but those little princesses are just so unique. I got to thinking about that, about how independent and confident they are. About how freely they express their opinions and show their larger then life personalities. About their endless joy and optimism towards life. About their little princess outlandish ways…they are simply the two most convincingly amazing little creatures I know (no bias whatsoever!).

But honestly their personalities are very outgoing, confident and capable. There is truthfully nothing they don't BELIEVE that they can do. They have no fear (granted not always a good thing…leaping off a 5 foot monkey-bar because you can is not well thought out on their part, but…). I don't think I've ever seen two little girls who just KNOW that anything is possible quite like these two.
I say that for two reasons:
1. Because my older son who is 8 is NOT that way at all. Granted every child is different and confidence is taught and picked up differently by each child, but he is so much more timid. I work regularly to teach him these skills, to demonstrate faith and the principles I believe in and as he sees them working in little and big ways and his confidence grows.
 2. Because my
epiphany
was that if I were still married to their father I don't believe that my girls would have their current personality. Now this is where many of you who plant your stake in the
Nature vs Nurture
camps will probably protest. So I guess this means I believe in the
nurture
part of that argument.
Knowing my ex-husbands personality and how much my own was suppressed in our marriage I KNOW that my daughters would not have been exposed to confidence, or faith, or the concept that anything is possible. They just wouldn't of. I suppressed my own personality so much in my marriage. By nature I'm very outgoing, outspoken, (I like to think I'm kinda funny too!), confident and (now) an optimist. Those were characteristics that my ex did not appreciate or encourage so by default after 16 years they died. My girls were only 13 months old when we split so they have been raised by the real me. As a result their personalities are very much encouraged to be whatever they want to be, they have that freedom and flexibility.
Of course I know that they learn great things form their dad as well, but I look at them and am so grateful everything turned out the way that it did so they can grow up without limitations.
---
Sarah Centrella is the author of the book Hustle Believe Receive which teaches you how to apply the #HBRMethod to change your life and live your dream.
Follow on social media: Instagram | Twitter | Snapchat | Pinterest | YouTube |Periscope @sarahcentrella
My little brood in Seattle 2012
~These are personal pictures of me and my little brood, please don't use w/o permission~