The Yellow Brick Road: My Dream Come True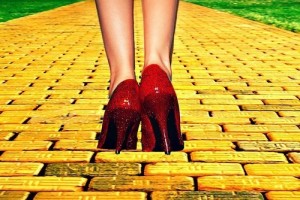 Yellow Brick Road…
I LOVE having breakthroughs and epiphanies. As a general rule I have been trying to teach myself to live in awareness and be mindful of them, so as it turns out I tend to have them with regularity as of late.
The best ones are the kind that makes the little "ding" sound when the light goes on in your head, and you get chills instantly down the back of your spine. The ones you have to take a few minutes to follow the yellow brick road past the freaky, scary forest to find the wizard and wisdom at the end of the rainbow. Those are the Hustle.Believe.Receive. ones that give me goose bumps, and leave one thought in my head: "No Eff-ing way!!" I may of mentioned this a time or two but…everything happens for a reason.
This past week I had one of those realizations, a BIG one! It hit me like a hungry sumo-wrestler. I was driving, milling over in my mind the lunch meeting I had just come out of. It was with the Director of the Oregon Chapter of
The American Red Cross.
He had called me to see if I would be interested in being the Motivational Speaker for their annual state staff retreat. This was the first moment I get chills.
This is my dream to motivate and move people on a grand scale, one where we can get "regular" people like you and me to have the "aha" moment. Where lives will be changed and hope will be given where it was absent before. That has been my dream and vision for a long time. This is the next step in that plan, one I began planning over a year ago, back when I was traveling the country as a software VP.
So this is the fun part. This is the yellow brick road…travel with me and we will unwind this one together and you will see, that for the last almost 3 years this is how my life has been. These type of moments and realizations and bodily chills, and enormous smiles that turn to screams and happy tears…this is what it feels like to get what you've been envisioning and dreaming about.
Timeline of events leading to said chills: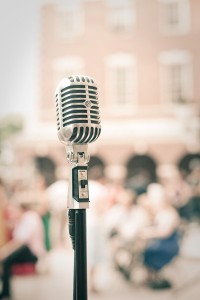 Love this Microphone…
One year ago I updated my Future Board to include a picture of a microphone looking over a crowd, next to it a picture of a women typing on her laptop, and next to that a screen shot of my blogs title. These were all to remind me of those experiences/dreams (1. To share my story through motivational speaking 2. To keep writing 3. To get my blog out there). Mind you my blog was still privet at this time and had in 18 months only ever had about 300 reads/views total to date. I held a very public role in my company and was afraid that if I went public with it, it would somehow jeopardize my position.
In March of this year (2011) my position at the software company was eliminated due to the line I oversaw being cut. After careful consideration I decided to take a position outside the company to further my public speaking and thought leadership career (though still specific to the industry I was in). (Read SWIM which is the post from that time)
In April and May I was jetting across the country, flying first class, staying at the Ritz, ect. in the new position. I LOVED it and was great at my job. But regardless suddenly, and for no known reason I was let go after only 5 weeks. I have a family of four to support and had just barley started getting settled into the position, I was devastated. Still I knew there must be a hidden reason, though I was pissed about it either way!(Posts during this time: Drum Roll Please! Pinch Me)
In June, 4 weeks into having no job (and unemployment still pending) my home was instantly flooded when the sprinkler in my daughter's room went off. This meant that the kids and I did not have a place to stay for the foreseeable future. And as you can imagine being unemployed with no income coming in there was no way I could afford to live in a hotel until or if our home was to be repaired. Again I was devastated, but had a great friend help remind me to keep the faith and practice what I preach and that everything does happen for a reason. So I chose to trust and believe over the alternative. (posts from this time: Show Up, Living in a Hotel, Don't Count Me Out,)
The American Red Cross was the only thing/person that showed up for us throughout this whole ordeal. They came within minutes of being called, to a flooded house, a dozen fire fighters and one sobbing hot-mess mama. They gave me a hug and said "what do you need?" I am forever indebted to them for providing us a hotel for the 3 weeks it took for the house to be fixed, funds for food and clothes since we were instantly out of the house…they were God's angles.(posts: Have Faith)
In July I was fortunate enough to get back to work in software Business Development at a great job with great people and begin getting back on my feet.
In August I get the call from The Red Cross to speak….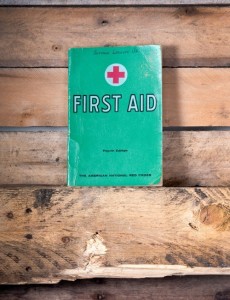 American Red Cross
I look back over the year's events and know that every single event, like dominoes HAD to happen to get me to my ultimate dream. And trust me when the bad stuff was happening it felt like dominoes, like the world was crashing down again in an instant! But through it all I had total faith (even on the hard days) that somehow, and I had NO clue how, that this was all part of the bigger plan. I call these Earthquake Moments. When the whole world needs to be turned upside down to get to your ultimate Ultimate Dream. I couldn't have kept those big jobs and still had this dream, the two things conflicted. So the Universe had to rely on what my Ultimate Dream was and moved a lot of crap around (that admittedly I wasn't stoked on at first) to get me where I needed to be. This is a good spot to remind everyone, be careful what you wish for! Make sure it really IS your wish. Because YOU WILL GET IT, there may be some upheaval and it may take a while but it's comin. Luckily I have been dead set on this wish/vision/goal above all others for years upon years, so whatever it takes to make this happen I will work with it!
But I'm so grateful I was able to keep the faith. Honestly, if it hadn't been for all of your encouragement it would have been so much harder. But I just KNEW like I know, like I know! That it was all for a purpose, even if I couldn't see what that was I trusted it.
So HOW FITTING is it that my first major speech discussions are with The Red Cross. An organization I never thought I would need, as a result of a situation I never thought I'd find myself in, which made my story that much more worth telling. Everything really does happen in our lives for a reason, a purpose, and if you can trust that you will live in freedom from the burden of stress!
So although I won't know for certain if I'm confirmed or not for another week or so; I know that no matter what this was what was supposed to happen to take my dream to the next level. I have also in the last 2 weeks been approached by 3 other organizations/conferences for speeches this fall.
Dreams come true.
Keep the faith.
Never give up hope.
Never doubt what you KNOW to be true.
Hold on when it gets rocky cuz it will pass. Promise.
And work your ass off to reach your dreams in the meantime.
I will definitely let you know when that final step in this dream takes place. I have envisioned that day basically my whole life. I daily envision this particular speech as I begin to get together talking points, I get chills every time I do almost to the point of tears. It will be an emotional one for so many reasons, but I know I will 1. Drink in the Pinch me Moment and 2. Kill it!
---