Manifest This!
If you don't believe in Hustle.Believe.Receive. (HBR) you're crazy! I'm sorry, you just are. I have sooooo many examples of how it's worked for me all over this blog, but I figured it wont hurt to share one more.
I LOVE manifestations, they give me goosebumps and never stop blowing my mind. But I need you to understand one very important thing: 1. When they come into your life you need to be AWARE so you can spot them! Don't be dumb and wait for the actual picture on your Future Board to show up live in your living room (though it might!)! Be open-minded and aware or you will miss them and think it's not working, when in reality it's been working all along; you just weren't paying attention.
Example? I thought so, Ok here you go…
About a year ago I updated my Future Board. I had several themes represented and one that was new for me was that of "Friendship". I knew that the last few years I had become rather isolated as a working single mom, and that friendships with girlfriends where hard to find and even harder to keep and maintain.  Finding one who really connects with where I'm at in my life right now has been difficult, as most of my close girlfriends live far away. The ones I have close by (200 miles away now) who I also adore have a lot going on in their own lives, and it's difficult to always keep in touch.  I knew that I needed to make it a goal to get out there and socialize and work to make that a priority in my life.
So I put this picture alone with a few others on my Future Board. It's of girlfriends sitting front row at a fashion show or an event. To me it's not the "fashion show" I see when I look at this picture it's the girlfriends doing something FABULOUS together that they love, and doing it up big! Those are the two things I thought about when I looked for a picture to represent the EXPERIENCE I wanted to have with my girlfriends:
1. Doing something amazing and 2. Doing it up in style!
That brings us to today when I get a call from my new girlfriend who I met through mutual friends "randomly" (nothing is random, we know that by now right??) on Facebook a few months ago. We instantly clicked in a way I didn't even realized I had missed. Just silly and funny and get each other. We are both moms both juggling a lot, both into the same kinds of things. It's been great to have that. So anyway… today I'm listening to her voice-mail where she says that her and I will be sitting court-side for the upcoming NBA game this weekend in Portland, when the Blazers play the Timberwolves!! I'm freaking out in the car hearing this, because of course I'm a huge fan of both teams and its court-side baby!! I've never sat on the court before for an NBA game! It will definitely be another Pinch Me Moment!
Then tonight we are texting, I'm frantically trying to brainstorm on what to wear that wont make me look fat on the court since there is no buffer zone! She is telling me how ridiculous I'm being and I'm cracking up at our banter… then I look up at my Future Board which sits framed above my fireplace, and see this picture.
Holly shit.
"OMG I just had an epiphany!!" I text. I tell her the story and think WOW… this still really does blow my mind! I will be sitting front row with a new girlfriend doing it up VIP style… if that is not HBR working I don't know what is!!
But do you understand how I could of missed all those dots connecting and otherwise maybe gotten discouraged? If I was only waiting for four girlfriends who looked like the chicks in Sex in the City to sit front row at NYC Fashion Week I might of missed that my "dream/vision" did in fact come true! I wanted girlfriends in my life; I got a new one! I wanted that big over-the-top experience and it showed up…. it's so easy!
Be aware. Always look for the magic in your life. Look for it every single day. Count every single tiny win. This to me is a huge thing, it's a dream come true! But it was a lot of little things over the course of a year that lead up to this big "aha moment"… see what I mean? Don't give up. Give it time and patience and recognize when the little things are falling into place, and be grateful for them and celebrate them. The more you do, the more you will receive.
Happy manifesting!!
Oh and BTW… I got to wear those $3,300 CHRISTIAN LOUBOUTIN Red Bottom shoes too!!! Yep!!
Checkin the score, sitting on the court!
Rockin the Chanel Shoes and LV bag on the court!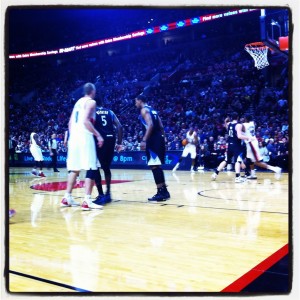 View from my court-side seat!