For Mama.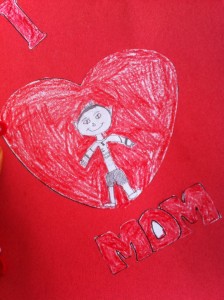 Kanen's Handmade Book <3
Today was the first Mother's Day I've ever spent without my kids. It's been ten years that this day has been my day. I remember being pregnant with Kanen and so excited that I got to celebrate it even though he wasn't born yet. Most of those past Mother's Days were spent with my family, having brunch or me hosting the family gathering. Cooking up a storm. Fresh flowers on the table. My parents and brother and sister were there, my ex-husband. It was always a big family affair as it is in most families.
Well this year it fell on my ex-husbands weekend, and that meant I'd be spending the day alone. For various reasons my family is no longer part of mine or the kids lives, so what used to be a big joyous celebration, and a day I could call my own, became one of the loneliest on record.
It's hard to describe what it felt like to wake up in a quiet house this morning.  But I'll try; It sucked ass.
But the sun was out, and it was a gorgeous day in Seattle (a rare occasion), so I decided to try and make the best of it. I put on a sun dress and went to the beach with my book. I had lunch and a beer overlooking the crowned sand and sidewalk. Let the sun burn my shoulder's. I walked along the surf surrounded by families of all shapes, sizes and ethnicity's. Parents setting out picnics, kids playing in the sand. Father's packing all the gear to and from the car. Families on bikes and roller-blades.
If I wasn't the only women (mom) walking alone out there today it certainly felt that way. It was strange to go places and not have anyone say "Happy Mothers Day", because how would they know I have kids? And if I do wouldn't they be with me? Duh. It fucking sucked.
I'm not trying to write a "poor me" post, so maybe only single parents should read it. Everyone else can get a free pass to skip it today. Because to everyone BUT a single parent I get how this all sounds. Sounds a bit like wha-whaaa. But if your in my camp, then I bet you get it. I bet you've had a day like this, and I bet at one point or another it made you want to cry. As I did when I drove home and Boys II Men "Song for Mama" came on the radio.
But alas six-o'clock finally rolled around and my twins ran across the parking lot into my arms, as I nearly squeezed them to death and fought back tears. When we got home Kanen practiced his pitching with me, and said I was a "pretty great catcher", boya!  He gave be the most amazing book he's been making the last month or so at school full of all the cool things we have done together, poems and drawings of us. Plus he grew me a pepper plant. How great is that?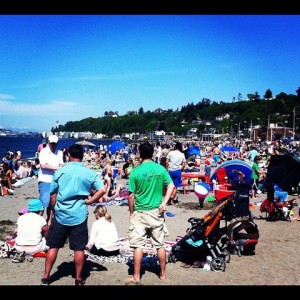 This is what it looks like when Seattle comes out of hibernation.
Mira and Izzy are crazy compulsive cleaners who love nothing more then to surprise me, by cleaning stuff (they especially love bathrooms. Yes I realize they might be slightly weird and possibly OCD, but as long as it works in my favor I'm fine with it). So they set me up on the couch with a glass of ice water and my book and cleaned the whole house. No I'm not making this up. Swear to God, it's a true story.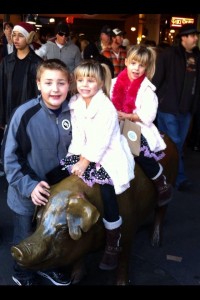 Luckiest Mama ever.
So a day that I just wanted to be over as fast as possible, ended the best way it could; with my babies back asleep in their beds.  And me reminding myself that no matter if they are here or not, I'll always be their Mama. Even though nine days out of ten I feel like I'm failing at this, and not enough for them, I am reminded that all it takes is endless amounts of love and a heart that is in the right place. And that is enough.
Happy Mothers Day to all the hard working, loving, patient, exhausted, devoted moms out there. Especially to those of you doing this alone; your doing a great job whether anyone sees it or not. You should be proud.  I'm proud of you.
Sarah Centrella is the author of the book Hustle Believe Receive which teaches you how to apply the #HBRMethod to change your life and live your dream.
Follow on social media: Instagram | Twitter | Snapchat | Pinterest | YouTube |Periscope @sarahcentrella