Happiness is Waiting.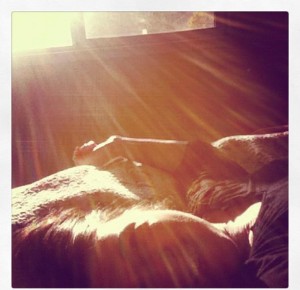 Give in to happiness
Happiness is just waiting for when your ready.
That statement flashed across my brain tonight as I was driving home from work in rush hour traffic. I was listening to What a Wonderful World, trying to get in a positive state of mind before walking into the house to greet my babies. Trying to brush off the day. Wipe my mind clean, so as not to let the stress and tension ruin our night.
I closed my eyes. Let the music give me goosebumps. Let it move me. I inch forward in traffic and look at the blue sky reflecting on Lake Washington.  A site so rare, I can count the days on two hands, when the sun has shone and the sky has been bright.  I let the music lift me, and the sun warm my hair through the open sunroof. This is what I do when I can't, or don't want to lift myself. I let the music do it for me.
I had to, because I'd listened to Somebody That I Used To Know fourteen times in a row the past thirty minutes.  Driving down the highway with my middle-finger-up to the indivisible somebody. But that's a step-up from last weeks song choice; All Back by Chris Brown, which I played on average twenty times a day. At least I'm making progress. I have a love/hate relationship with music, this is becoming clear to me.
Lyrics always move me, like little else does. Maybe because with my crazy life I don't have much time to read, watch TV or anything else, so music is what speaks the language of my soul.  It's like a friend who listens, doesn't judge and knows exactly what your going through.  It almost always brings about Epiphanies. Like it did today.
There's a line in Somebody That I Used To Know, that says "you can get addicted to a certain kind of sadness."  I realized that's exactly what I had allowed myself to do. The past three months I've been willingly addicted to that sadness. I was terrified to let it go. It comforted me in some sick way. The relationship was gone, but the sadness kept me warm at night, and from eating in the light of day. I wanted to keep it. To feel it. To miss it, as long as possible. Knowing that when those feelings of loss and sadness are gone, so is the love. Which is what, of course, I really wasn't ready to release. The sadness was a choice.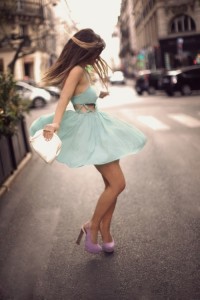 Dance.
Happiness is just waiting for when your ready, Sarah. When your ready, happiness is here. It's been chillin on your front porch.  Waiting for you to stop dancing with sadness, and open the door to allow happiness to take over from here. It's just waiting.Waiting for you, to want it more than you want sadness.
Happiness is a choice.
I think I'm finally ready.
Thanks for your patience happiness, mighty kind of you. Let's dance.
Sarah Centrella is the author of the book Hustle Believe Receive which teaches you how to apply the #HBRMethod to change your life and live your dream.
Follow on social media: Instagram | Twitter | Snapchat | Pinterest | YouTube |Periscope @sarahcentrella