Adventures in Manifesting: My Story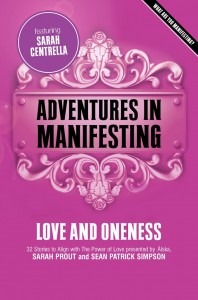 I'm now a PUBLISHED AUTHOR!!! WHOOOHOOOO!
I'm so excited and honored to be part of the international best selling series Adventures in Manifesting! This series has had contributing authors like Bob Doyle who contributed to The Secret movie, it's a huge honor!
When Sarah Prout asked me to be apart of the series and their new book "Love and Oneness" I jumped at the opportunity.  But I was totally surprised and delighted to learn this week that my contributing chapter about my story is the final chapter in the book, this is the most ideal placement for a co-authored book.
I just wanted to remind everyone to never give up on your dreams. This opportunity literately came to me, (the very meaning of The Law of Attraction), and is further proof that we really do manifest our future.  Hustle.Believe.Receive. people!!! It works!
The book is now available on Amazon
Thank you for your love and support it means the world to me and the kids.
Sarah Centrella is the author of the book Hustle Believe Receive which teaches you how to apply the #HBRMethod to change your life and live your dream.
Follow on social media: Instagram | Twitter | Snapchat | Pinterest | YouTube |Periscope @sarahcentrella