This Feels Great, I Can't Lie.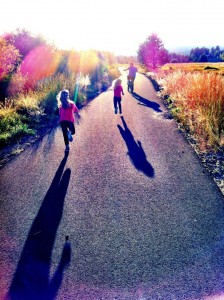 Nothing quite says summer like this…
In the past couple of days I've been on the biggest emotional roller-coaster. It's been one of the hardest weekends of my life (family… boy they know how to break our hearts don't they!).  So needless to say I have never both looked forward to and dreaded a vacation as much in my life. The first part of our trip was to reunite with family, renting a house in the mountains for my brothers wedding.  This was bitter-sweet in ways that I can't really go into… but let's just say it had great moments mixed in with the known heartbreaking ones.
The second part started yesterday.  It's been a long time coming for this part. My whole life really when I think about it.  Growing up poor you don't get opportunities to "vacation" like most people. You don't go off and stay at a fun hotel, or resort and do fun family activities. I've had never really done that kind of thing until my honeymoon.  The past few years I've taken Kanen on a trip, but I've never been able to take all my kids because it's too expensive and I've always been a struggling single mom.

So today wrapped up our first full day at Sun River Resort, in Bend Oregon. It might not be Maui or Disneyland but those will come.  But it is a beautiful sprawling resort with all those fun things I always wanted to be able to have my kids experience first hand, and today all three of my babies got that chance. We went for bike rides, played all day at the water park, eat dinner under a panoramic view of the mountains and ordered breakfast in bed. All firsts for all my babies… and I gotta tell you it felt pretty fucking great to be able to do this with them, and see how much they appreciated it, and how they just lite up. It was a dream (vision board) come true (can you say manifestation??).
So thank you universe for lookin out for me all these years and for teaching me to be grateful in all things, to believe in magic and to most of all live in gratitude in the moment.
I wish that I could have this moment for life.
Thought I'd share a little of our family photo album… here it is 🙂
When you focus on the EXPERIENCES you want out of life and not on getting a certain amount of money… those experiences find you and money is never an issue… crazy but true!
Sarah Centrella is the author of the book Hustle Believe Receive which teaches you how to apply the #HBRMethod to change your life and live your dream.
Follow on social media: Instagram | Twitter | Snapchat | Pinterest | YouTube |Periscope @sarahcentrella