Dear Noni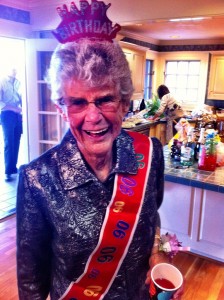 Happy 90th Birthday Noni!
This weekend I flew my kids (the girls first ever flight) to California for my grandma/Noni's 90th birthday bash celebration. I'm so incredibly fortunate to have a role model like her in my life, and someone who's loved me unconditionally since first memory.
My Noni has traveled the globe, set foot on all but one continent. Raised six children. Graduated college. Served in World War 2. Has beaten cancer on several occasions. Has par-sailed at the age of 87 in Mexico. Survived her husbands sudden death 15 years ago, has lost a child, is the last remaining member of her immediate family, still lives alone, still drives herself, and is planning a trip to Vietnam in the spring!  She has given support, love, motivation, leadership, spark and sizzle to everyone around her; selflessly for 90 years. I am soooooo lucky to have her as my example for what a women can do/become/achieve.
Let nothing stand in your way.
This is for you Noni~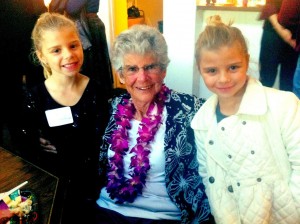 It's hard to put into words the way that you have affected my life. Because of you I've learned so many valuable lessons.
               

I learned how to push myself when I'd rather give up.
Learned that saving money can be as much fun as spending it (OK maybe not, but I thought you'd like to at least think I learned this lesson!). 
I've learned that it's OK to be a strong independent woman. That I don't need to make apologies for that, or back down from who I am to make others more comfortable. I've learned to love books. Love reading, to teach my children to do the same.
              

I learned that there is such a thing as unconditional love. That when you are family, you can love each other through anything, and that being there for each other is the most important thing we can give. I've learned that mothers and daughters can love each other
and even be best friends. Thank you for that lesson, perhaps the most critical of all for me as a mother of three, to learn by observation. 
Thank you for showing me that life is beautiful regardless of our circumstances.  For teaching me that I can always opt to change mine, and that being accountable for my decisions is the first step in making that change. Thank you for being my guru when I've needed one the most. Thank you for teaching me through love, and loving me through it all.

         

You are, and always will be my hero.
Sarah

I get my dark hair and blue eyes from Noni as well as most of my facial features, and probably my spunk, determination and "It's 5:00 somewhere" attitude!!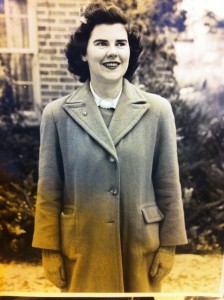 Love this picture of a young Charlotte (Noni), I look so much like her it's crazy
Sarah Centrella is the author of the book Hustle Believe Receive which teaches you how to apply the #HBRMethod to change your life and live your dream.
Follow on social media: Instagram | Twitter | Snapchat | Pinterest | YouTube |Periscope @sarahcentrella