Joshua Smith Leaves UCLA… So? Get Off His Ass.
*I had wanted to post this earlier in the week when the news broke that Joshua Smith had decided to leave UCLA, but didn't get a chance.  Now with the events that occurred today it renews my passion for supporting these athletes and getting them the help and support that they need when they need it.
 This week I saw a good friend of mine (I do not Life Coach him) Joshua Smith, the former big man Center for UCLA, get eaten alive in the media for quitting the team. And all I could see was a 20 year old kid who has endured endless media trashing for his weight, and who had lost the love of the game.
When he made his decision to leave the team it was something that he needed to do for him, and for his happiness, and all fans could do was trash him and say what an idiot he is to throw away his future and the chance at millions.  And knowing Josh, I support his decision, know he has a plan, and understand that
he is smart enough to chose happiness above what everyone thinks he should do. He has a great family support system, which many of these kids don't, so thankfully he can rely on that guidance to get him though firestorms like these.  Yet still it's hard for me not to get passionate about watching what fans and media did to him in the wake of that decision. It breaks my heart, and makes me angry.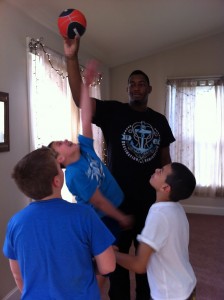 Just waiting for someone to try and get the ball.. lol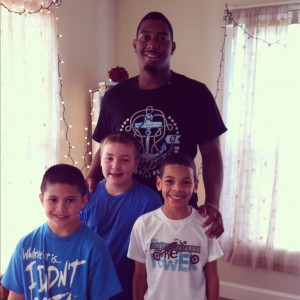 Josh with my son and his friends at our house last spring
Maybe we should stop pretending these guys are superhuman and perfect.  If you are a sports fan, then support these guys, and remember they are human and for the most part are really great people and I'm glad to call so many of them my friends.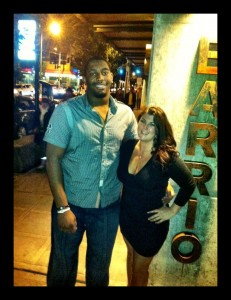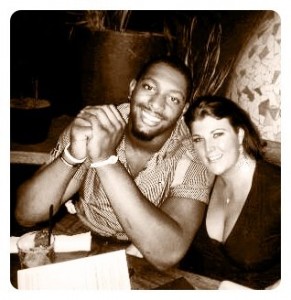 Sarah Centrella is the author of the book Hustle Believe Receive which teaches you how to apply the #HBRMethod to change your life and live your dream.
Follow on social media: Instagram | Twitter | Snapchat | Pinterest | YouTube |Periscope @sarahcentrella