Kansas City NFL Player Tragedy… Jovan Belcher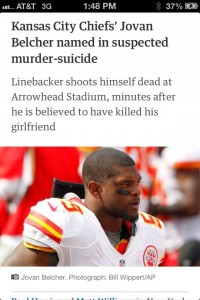 This makes me so sad….
*Click here to read the story:
This breaks my heart, and yet on some level I can see how something so tragic can happen. In the past several years I have become close personal friends with, and have as Life Coaching clients many NFL players and even coaches. I know perhaps better than most, the pressure these guys are under, and some of the intense challenges and issues they face. It looks glamorous and perfect on the outside, but the reality of the life of a professional athlete is that it can be extremely isolating.  Mix that isolation with immense pressure to perform, long working hours with little time off, often living away from family and loved ones, and many times living in hotels for months on end, it's easy to see how life can become distorted; even when you are living your dream.
I'm not making any excuses for what Kansas City Chiefs Linebacker Jovan Belcher did today, it's horrific and tragic beyond comprehension.  I can relate to the loss in a personal way, having had one of my close girlfriends murdered by her boyfriend.  So in some way I can identify with this pain on a very real level.  But what I find so sad about this story, is that a guy who by all accounts seemed to be a good kid, with a "good" background, could get to a point where he felt that the only option was to end it all and take the mother of his child with him.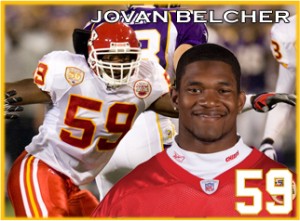 Jovan Belcher KC Chief's Linebacker
I hate to see tragedies like this, and I pray that the sports organizations take a proactive approach in making mental health help available, and not just a team Chaplin, because the players I know don't
use them. They need someone to provide guidance and real life advice that can help them through the times when they feel lost, alone and used by everyone around them.
Let us try to remember that just because they are "living the dream," DOES NOT mean that they are living a "perfect" or "easy" life. The pressure of the game, of people around you changing, and always wanting something from you, or kissing your ass constantly, and being alone the majority of your time…. it's a hard life, don't let the glamour fool you.
My prayers and thoughts go out to this family and everyone who knew them, and especially to the child who now is parent-less.  And to all the players and coaches that they find healthy ways to deal with the pressures of the life they live.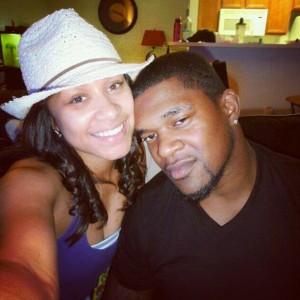 Kasandra Perkins & Jovan Belcher
Read my followup article here
Sarah Centrella is the author of the book Hustle Believe Receive which teaches you how to apply the #HBRMethod to change your life and live your dream.
Follow on social media: Instagram | Twitter | Snapchat | Pinterest | YouTube |Periscope @sarahcentrella