Writers Block.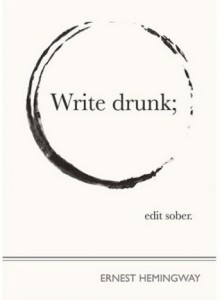 Totally need to get back to this!
So you might have noticed that I'm suffering from a bit of writers block, either that or just have too much stuff going on at the moment to keep up.  But regardless it's been too long since I've made a daily practice of writing, on my blog but also with my book.
I spent all last year writing and rewriting my memoir.  Each time I got a rejection letter from a prospective publisher, I took their criticism to heart and changed my book.  In some cases adding more of my story, in others taking chunks out, until the concept, flow and tone of it had completely changed.  I know it's common to work on a book for years, constantly doing rewrites, but this process has left me pretty emotionally spent.  And for the past few months I've intentionally avoided pulling out my book, reading it again and then deciding what direction to take it.

Some goals seem too big sometimes.  You know what I mean?  Like 99% of the time they are clear and the vision is seared in your mind, and you hustle toward it every day… and then there's that 1% when you think; shit… I'm trying to do THAT? It just feels too big to take on.  You feel lost inside the dream.  I hate this feeling.  Hate it with a passion. It's like floating in a stagnant pond when you know full well you set out to go white-water rafting.  You feel so disappointed in your own cop-out.  In your own lack of courage to paddle back out into the current and once again get soaked by the ride.  That's where I'm at, laying on my raft, looking at the crazy ride and summoning the courage to get back on it.
I know when I do it will all come back to me.  The vision, the voice, the words.  The writers block will be lifted.  But right now, I'm taking a rest from the emotionally draining process it's been so far.  I'm digesting. In my heart of hearts, in the deepest part of my being, I KNOW it's going to be a best seller when I'm finally done, whenever that might be.  That keeps me pushing forward because I know it will move and inspire people.  I know that after reading it, there's no way that you wouldn't be convinced that anything is possible.  That's what keeps me going.  And that's what made me open it back up again tonight, and break my months long standoff, and begin to write once more.
Relentless pursuit.
What's your BIG dream?
Sarah Centrella is the author of the book Hustle Believe Receive which teaches you how to apply the #HBRMethod to change your life and live your dream.
Follow on social media: Instagram | Twitter | Snapchat | Pinterest | YouTube |Periscope @sarahcentrella