World Champion Ravens: A Law of Attraction Lesson.

World Champions!!!
So if you follow me at all you probably know that I'm a HUGE Baltimore Raven's football fan.  My son and I have been following them the past few years and have gotten to know the players and coaches, so at this point we are beyond fans… I think of them as family.  And unless you're living under a rock, you might also know that tonight they won the Super Bowl, becoming the World Champions.
But the thing that I've been watching are all the stories behind the game.  Working with and knowing so many athletes has really shaped my view of what people call the Law of Attraction. (I call it Hustle Believe Receive) To me they are the real deal. The way they apply it is second nature to them, and is probably something they would never even think of as "The Law of Attraction". It's just in their blood. This is so evident when you hear their stories, especially on a big stage like the Super Bowl.
The Raven's have gone though much adversity the past several years, and this year were an unlikely pick to win the big game. They had most of their top players on injury lists for the majority of the regular season, and it just seemed like one thing after another was not going their way.  They are a team that seems to have more than it's share of "haters", and no one thought they were capable of what they pulled off tonight.  No one but them, and their faithful fans.
They always believed.  They never lost faith.  They never stopped working, day and night to get to their goal.  They didn't set out at the beginning of the season to win some football games.  They set out to win the Super Bowl.  All season they had one goal.  That was it. It seemed unreachable, and maybe even ridiculous but that was what they worked toward, even through all the heartbreaking disappointments.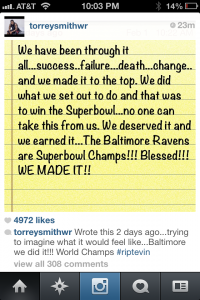 His comment at the bottom is amazing.
I saw this post tonight after the game on Instagram from Raven's wide receiver Torrey Smith. The quote is pretty awesome, but when I read his comment below the picture, the one that said he wrote that two days ago… that's when I got chills.  That is the HBR right there.  That's the perfect example of how I use and apply it, and how I've learned the secrets of it's success by observing the mind of athletes. It's amazing.  And the best part is it's not reserved just for them.  That formula is one I've directly adapted into my life and achieved amazing result from.
It's simple.
1. Believe with unwavering faith.
2. Every single day hustle (work) hard in every single area of your life that is within your control to get you closer to your dream. (example: they practice, workout even when they don't "have to", they eat right, they do everything in their power to make sure that they are ready when the time comes).
3. Envision and expect your outcome in a way that is second nature, as natural as breathing.
4. ACT.  When the time comes, and the opportunity is there you MUST act.  It might look like a giant risk or a leap of faith, but you cant score a touch down from the sidelines. You have to get on the field and be in the game.
5. Receive.  When coach gives you that chance to get on the filed, now it's time to receive your reward (manifestation).  You have to rely on your unconditional faith, and call on your vision of the outcome you've been expecting. That's why it needs to be as natural as breathing, because it's what gets you over the fear.. it's what brings you success.
And that's the formula for success. It's not complicated.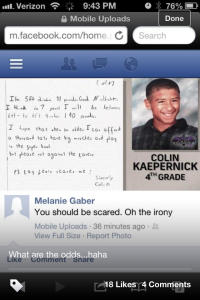 Amazing!
I also loved this story and quote from San Fransisco 49er's quarterback Colin Kaepernick, about the note he wrote in 4th grade that predicted he'd play football for the 49ers. It gave me chills.  And as my son Kanen and I watched that story today prior to kickoff I made sure to point out how this is yet another amazing example of how HBR can and does predict our futures.
Here's to using what we know to make our lives and the lives of those around us better.  Apply it and pass it on… change a life.
GOOOO RAVENS!!! Click here to read more about their amazing story.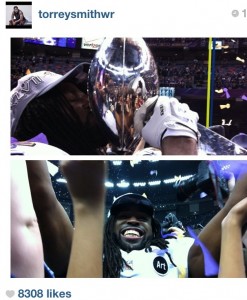 Congrats Torrey and all the Ravens…. NEVER GIVE UP.
Sarah Centrella is the author of the book Hustle Believe Receive which teaches you how to apply the #HBRMethod to change your life and live your dream.
Follow on social media: Instagram | Twitter | Snapchat | Pinterest | YouTube |Periscope @sarahcentrella