Red Cross Speech
I've gotten lot's of requests from readers/followers to see the video from the speech I gave yesterday
for the Red Cross's Hero's Breakfast.  The video will be out shortly but for now I thought I'd post my actual speech.  You can read posts on my blog about what life was like when our home flooded and see the videos.  Yesterday was such a special moment for so many reasons.  To me it's the ultimate proof that everything happens for a reason.  Who would have thought that almost two years ago when that disaster struck that it would turn into the fulfillment of my ultimate dream.  There were nearly 1,000 people at yesterdays fundraiser including executives from Costco, Boeing, Microsoft and Puget Sound Energy.  To share my story in a way that helps to give back to an organization I believe so strongly in was amazing.  And yes I cried at several places in the speech, and at one point the audience gave me a full round of applause during the speech! It was a pretty amazing moment. Dreams do come true. I am proof.    
My Speech
First let me say what an honor it is to be here with you all this evening, and to share my story.  I feel like it's a moment I've waited for ever since that fateful June day.  A day where I can say from the bottom of my heart, Thank you.
On a June afternoon in 2011 I tucked my twin daughters into their bunk beds for their afternoon nap, and went back downstairs to continue my search for a job. I'd been laid off suddenly two weeks before, and was doing all I could not to panic.
And then I heard a bloodcurdling scream coming from my daughter's room, followed by the sound of an industrial size sprinkler, exploding.
Within minutes water from the in-home sprinkler system, began rushing down the stairs, and pouring from every conceivable light fixture like a faucet.  In the eight minutes it took the fire department to respond, all three levels of the home we were renting, filled with standing water.
What I remember most about that day, was milling around a place that was, in an instant, no longer my home.  Trying to get my mind around what that really meant for my family.  The fire chief was trying to explain that I needed to call someone, find a place to stay.  That we couldn't come back here, not tonight or anytime in the foreseeable future.  I watched as crews went to work, moving furniture, stepping in, and trying to stop the damage.  And finally I sat on an overturned bucket, put my face in my hands and cried until my whole body shook.
I had no idea what to do.  I had no job.  No savings, and now no home. As a single mom I'd been working nonstop, living paycheck to paycheck for the last two years, just trying to make ends meet after my husband left. I couldn't imagine how I could possibly get through THIS.  The more the gravity of how desperate our situation really was, began to sink in, the harder I cried.
When my older sister called from California to tell me I should call the Red Cross, I almost laughed. "What can they do?" I asked her. "It's not like this is hurricane Katrina.  It's not a national disaster".
"Just call them".  She insisted.
I didn't call.
I felt too foolish and I didn't want to waste anyone's time.
Before the fire chief left, he told me our home was considered a "Natural Disaster".  "It's unlivable" he said.  Then he handed me his card and said "Please call the Red Cross, they can help you.  You shouldn't have to go through this alone".
Ten minutes after making the call an elderly gentleman with a Red Cross vest, walked into what was once my living room.  And he gave me a hug.  It was the first hug I'd gotten all day.  I'd been in the house for hours with over a dozen firefighters, but no family.  No friends.  That hug, from a total stranger, was exactly what I needed in that moment.
We both sat, and in the kindest most compassionate way imaginable, he quietly asked me what I needed.  I couldn't even think.  Part of me was in denial.  I was still thinking that somehow, once everyone left, I could put the kids to bed in their rooms, and that this would have all been just a terrible nightmare.  But he had the good sense to think for me.  To realize the state I was in, and to recognize that I couldn't make a cohesive thought.
And then, as if reading my thoughts he said something I'll never forget.  He said "it's ok.  I'm here to help, with whatever you need. You are not alone.   Everybody needs help sometimes.  And that's okay."  
He asked if the kids and I had a place to stay that night, or for the next week.  I said no.  He asked if they had dry clothes, ones not damaged by the flood water.  I couldn't think and didn't want to be selfish, but he reminded me, that he was there for just that purpose; to think of what I could not.
Then, he called in a hotel room for us, one with a refrigerator because he knew the kids would need one.  He asked if I needed dinner for the kids, and handed me a debit card and said, "Just call me if you think of anything at all, anything we missed".
He stood up, and reached in his bag, and handed me three Mickey Mouse toys, "these are for your children, just in case their toys are all wet, that way they have something tonight."
Everything about that day was so blurry.  Everything but him, and the warmth, love and support he brought into a waterlogged, disaster ridden home.
He brought compassion in a way that allowed me to keep my dignity.
In a way that made me feel like I wasn't taking a handout, but accepting a hand, from a friend.
So let me take this moment to say thank you, to all the volunteers, who open their hearts without judgment to people like me.  Who are there with a hug on what is possibly the worst day of a person's life.  On a day when hope seems to be lost.
What you did for me was keep my family together. That is what the Red Cross did for me. You allowed me to continue to be a mother during an intensely difficult, scary and uncertain time.  For four weeks we were homeless, and jobless.  And for four weeks you held us together.  You made it possible for me to still take my son to his school, to still sing their songs at bedtime, and read to them while they took a bath.
Without your help I could not have taken care of them though that time.  The thought of that is unimaginable to me.  There are no words eloquent enough to express my gratitude for all you did for our family.  For thinking and acting for me, when I wasn't capable…and for doing it all with love.
You help also inspired me to get back on my feet, and gave me the motivation to provide for my family in a way I'd never been able to do before this tragedy.
And so it brings me great joy and personal pride to be in a position now too give you this (hold up my personal check/donation) … a $100 donation.  It's nowhere near what you have given me, but it's a start.  It's for the money loaded on my Red Cross debit card, and I'm honored to now be in a position to return it.  Please load it on another card, for another family who's in the middle of the worst day of their life.  I pray it makes them feel as I did, that they are not alone, and that even a total stranger can love and support you.
The Red Cross is a non-profit organization that relies solely on donations to survive.  All local funding comes from the generosity of individuals, businesses and foundations within our own community.   These donations help to fund all of our local disaster responses, our free preparedness training; they help us connect military members and their families during emergencies, and teach kids first aid  ……… so today I ask you to contribute.
I want to be clear…your donations funded the disaster relief that gave me food and shelter. Your donations are what kept my family together and gave me a chance to be a mother…but there are still so many more to reach, so many more kids and families that need help. The Red Cross responds to two disasters every week here in the Northwest. Those are not statistics, they are people, just like me that need your help.  I'm asking you to donate on their behalf.  If everyone here gives $100 or more tonight, we will make our goal of $100,000.
Please pick up the large envelope on your table and pass it around.  Inside the envelope are donation cards, smaller envelopes, and pens for your use.  Please fill out a donation card, place it with your donation in a smaller envelope, and then put it back in the large envelope.  Cash, checks and credit cards are all accepted.  There is also a place to sign your company up for a matching gift.   I'll give you a moment pass around the materials and then I'll continue.  (…Pause approx. 10 seconds…)
I don't know how much you have to give today, maybe you have $25, maybe $250, $2,500 or $25,000 but I need you to know that every dollar you give goes to help families like me.  I'm here to say, that your money is soooo well spent! Your money fed my children when I couldn't.  It clothed them when I couldn't.  It put a roof over their heads when I could not.  What could be a better use of anyone's money than that?
This is where your money goes… to people like me and to children just like mine. And we just want to say thank you from the bottom of our hearts.
You were there when we needed it most. Thank you!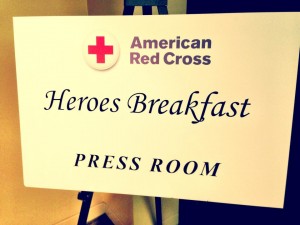 I so used the whole thing!!!
so happy my babies could be there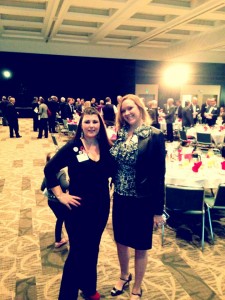 My girl Sarah came with a bottle of wine that first night in the hotel. Was so special to have her there yesterday.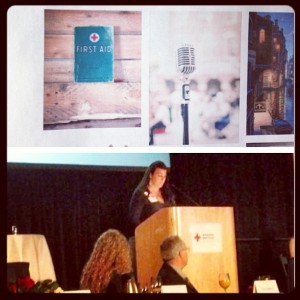 Above a pic of my vision board, Red Cross logo and a mic… I KNEW one day I'd be here.. was exactly what I envisioned.
Read the story of us in the hotel.
Click HERE to pre-order my book #HustleBelieveReceive which gives my 8 steps to success to changing your life and living your dream. Not all "law of attraction" teaching works, in fact most don't.  But over the last 5 years I've learned what does and how to quickly and easily apply it to get fast, life changing results. Learn more about my #HBRMethod for success.