That Moment When…. You're Livin' Your Dream.
That moment when….you're livin' your dream.
Yesterday was that moment for me.  The one where I got up in a room full of strangers and told my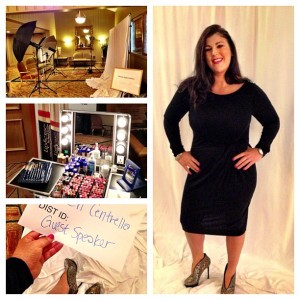 Make-up by glam squad, check. Photo shoot, check.
story for the first time. Gave my first 90 minute key note speech.  It felt so good.
I've obviously been super critical on myself since, picking it all apart and thinking of all the ways I could have done a better job, but the bottom line is… it was my first one like it, and it felt great. It felt like that's where I should be.  And if there was one women in that audience yesterday who walked away with a renewed sense of hope, or had some type of aha moment, then that will be the best reason to keep going of all.
I have to remember that at the end of the day what an audience is going to get is me.  Plain and simple.  I'm not a Tony Robin's style motivational speaker, nor do I aim to be.  I want my message to always be raw and personal and uniquely me… goofy, imperfect and a reflection of the person I am.  I know over time I'll get more and more comfortable, but right now what matters to me is getting my message out there to people.  Letting them know they can change their life the way I have done.  Letting them know they are in control of their future. And if I'm accomplishing that then I know I'm on the path to fulfill my mission and live my passion.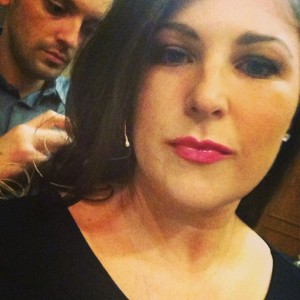 Getting miked up before I went on..
If you have a passion, live it. No matter what anybody says.  Tell yourself you can achieve it and then let nothing stand in your way.  What I achieved yesterday was a dream four years in the making.  It was something I didn't even know if I could actually pull off.  But I was dedicated to it and relentless about chasing it, and then the opportunity came to me.  It will happen to you too. Just decide that you will NEVER GIVE UP.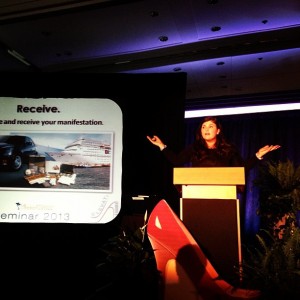 And that's what it looks like when a little girl is livin' her dream.
Big shutout to SeneGence International for giving me this opportunity and for believing in my story, you were all so amazing and it was an honor to be a guest at your event.  And I'm obsessed with LipSence which was applied by the glam squad at 8:00 am and didn't ever need reapplying and lasted until I removed it at the end of the night! Amazing stuff!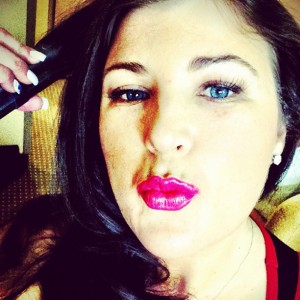 Most amazing lip color ever! Love LipSense
Sarah Centrella is the author of the book Hustle Believe Receive which teaches you how to apply the #HBRMethod to change your life and live your dream.
Follow on social media: Instagram | Twitter | Snapchat | Pinterest | YouTube |Periscope @sarahcentrella