You Always Get What You Need, When You Need it Most.
You always get what you want, when you need it most.
There are so many times I question my mission.  Times when I ask myself; what am I doing? Why am I putting myself out there, sharing such personal and private struggles with anyone who cares to tune in?  Times when it seems like all the work isn't doing anything, isn't getting me anywhere.
Times like last weekend, when I hear myself tell a room full of strangers my very personal, very raw story for the very first time…. I think, have I lost my mind? It's one thing to write about it.  Even one thing to make a video about it.  It's a totally different thing to look total strangers in the eye after they have heard you talk about your husband cheating on you, and leaving.  About you having to support your kids in the beginning with aid from the government.  You feel naked and exposed.
Not that I haven't felt that way all along, because I definitely have.  With each step in this journey the past three years, it has felt like that.  But I've always promised myself that no mater what, I'd be real, and authentically me. That I'd share the rawness because that's what everyone's afraid of.  But that's what would have spoken deepest to me, had I heard this message come from someone like me when I needed it.

So I do it for that reason.  In hopes of reaching that one person, who is at the bottom like I was.  Who for the first time, can hear a message that it's really all that unique, but for them it is.  For them, it's the first time they've gotten it, because they could relate in some way to what I've been through. So that's been my relentless pursuit.  And it's the reason that when I want to quit, I just can't.  I want to make a difference. I want to give the person without hope, a light out of the tunnel. I want to not only give them inspiration to get out, but tools to apply so they can take that first step.
It's always times like these, the times I'm in questioning mode, that Hustle.Believe.Receive. brings me validation that it's not all in vain.  That someone out there is getting the message and making that change in their life, and let me tell you that nothing feels as overwhelming as that.  Still, to this day, when I get those letters, email, Facebook messages, comments or tweets, it always makes me cry.  I get so emotional because to have a total stranger trust you with their personal story, and to validate that you are not alone, and that it means something, replenishes my own faith more than I can explain. It is so humbling, and it makes me so grateful, and it takes the sting and embarrassment out of being so public about my life. It makes it worth it.
So if your someone who has taken the time to share your story with me, I know I've already responded to you (I sure hope so at least, I respond to every one that I see), thank you. Thank you for renewing my belief, hope and vision.  Thank you for letting me know that it's meant something to you and that you've made a change in your life, because that makes a change in mine.
*Here's a story that I got today.  It like all the others I've gotten the last three years, has come at just the time I needed it most. It is shared with permission.
part #1 of 3.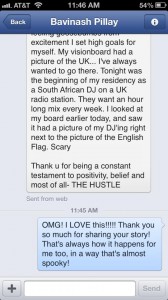 part #2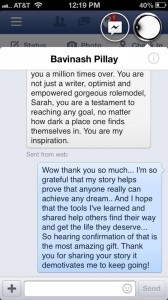 part 3
Sarah Centrella is the author of the book Hustle Believe Receive which teaches you how to apply the #HBRMethod to change your life and live your dream.
Follow on social media: Instagram | Twitter | Snapchat | Pinterest | YouTube |Periscope @sarahcentrella