The Alchemist: The Answers I Needed.
The Alchemist: The answers I needed.
I just finished reading The Alchemist. My mind is still spinning and trying to process all it has taught me.  It's the first book I've actually read cover to cover in over ten years! Yes I said ten.  That's not to say I don't read, because glancing at my night stand I just counted fifteen books I'm currently reading.  Some were started a few months ago, one as far back as maybe 2007.  None have accomplished what this one did, in the two days I read it.
None have called to me, spoken to me, and set my spirit free the way this one has done.
I don't remember who the first person was that told me to read this book, but it was years ago.  Since then it seems like everyone I know has read it.  What finally prompted me to actually do so, was a little white-lie.  A friend whom I greatly admire, and who thinks much like I do, asked me for like the tenth time if I'd read it yet.  I lied, and said that yes I finally was.  So that day I stopped at Barnes & Noble after hot yoga and picked it up. I figured that lie had a very short expiration date.
If you've not read it yet, please do yourself the service of finding a copy and reading it. If you have then you know that if your reading it as a person who already knows what their Personal Legend is, that it lights a fire under you in a way that probably nothing else quite has.  And even more then that it gives you the strength, wisdom and outline to KNOW that you will reach your destination.  It confirms that all the suffering you have gone through to get to whatever part of your journey you are currently at, is all part of achieving your dream.  That's something I've discovered to be true in my own life.  But I was reassured to see what a big part trials, the feeling of failure, and temporary defeat really play in the process of getting to your dream.
My Personal Legend has been tested the past few months.  I've lived my ultimate dream of sharing my story with a live audience and somehow it left me questioning everything. It felt exactly how I imagined it would in the moment, but afterwards I was surprised how critical I felt and how it made me reexamine everything.  I felt like maybe I'd lost my lust for my dream, that somehow in the realization of it there was also disappointment, maybe in the fact that it had come true, as crazy as that sounds. It left me feeling… uninspired.  And that feeling alone made me depressed and I couldn't figure out why, or why I felt off course.  But the second I picked up this book, I had no question in my mind what my Personal Legend is. And no question that those feelings are all part of the obsticles that are put in my way to see how bad I really want it, and to see if I'm able to push through when the going gets tough.  It made all of it crystal clear again.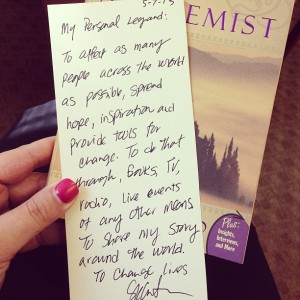 My bookmark.. my Personal Legend.
And as I finished the book with these thoughts in my mind, I got a message on Facebook, much like ones I get everyday, from someone who'd "randomly found my story" and who was inspired to follow their dreams because of it.  And I cried because I knew it was my omen.  It was my answer.  Those answers are always right there when we need them, we just need to be present and aware and recognize them.
But the main reason this book landed in my hands at this time, and not years before, was not an accident.  This time it was because today, in this stage of my journey I needed to be told that you don't have to give up love in pursuit of your dream.  Someplace deep in my belief system I've told myself that it was one or the other. That I'd not find love until I realized my dream, because if I found it on the way it would distract me from my goal.  That somehow I wouldn't be able to have both.  Reading tonight that true love is not static but rather a force that transforms and improves, blew me away. It made me realize that, that fear is what has repelled true love from my life. Knowing that somehow made peace wash over me. Like the struggle is over.  Like the search is over. It also made me see that true love will wait for when you are ready, and that if when you first meet the timing is off, if it really is that pure love, it will still be there when the timing is on.  What is meant to be will be, and he will find me.   I am now free to follow my heart and my dream because they are one in the same.
Sarah Centrella is the author of the book Hustle Believe Receive which teaches you how to apply the #HBRMethod to change your life and live your dream.
Follow on social media: Instagram | Twitter | Snapchat | Pinterest | YouTube |Periscope @sarahcentrella