Think and Grow Rich… Is It Working?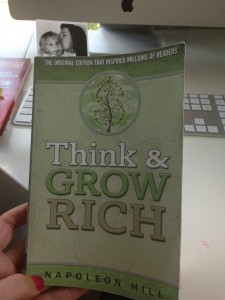 It seems like I always have the best epiphanies when I'm on cross-country flights. For some reason I find them so inspiring. I, like everyone else, need inspiration wherever I can find it.
When you have a dream, you've defined it, committed to it, work at it tirelessly and believe in it with all your heart — you will be faced with times when NOTHING seems to be happening. That's when you start to question everything. Experience tells me that pushing through those times, is the key to get the ball rolling again. But sometimes it's so hard. It's easy to lose your way in times like that. And when you allow those times to drag on and on, and don't put an end to those thoughts and feelings that's when it starts to become dangerous. That's when you're at risk of losing it all together. And that's the stage when most people become overwhelmed with doubt and start to think that it's all a bunch of crap and that the Law of Attraction doesn't work.
Two years ago I got a book called "Think and Grow Rich" by Napoleon Hill. It instantly lit a fire under me. In the back of the book, on the last two blank pages, I wrote out my plan for success in detail. With defined deadlines and specific "moments" I expected to live out and manifest. Then I put the book away. That was September 1, 2011.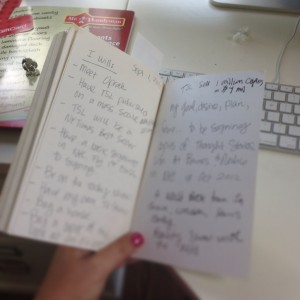 My 2011 goals written at the back of the book
Before I walked out the door headed to the airport yesterday, I grabbed the book off my nightstand. And on my flight I began reading it again. I read over the plan I'd written out two years ago to the day. And I measured my progress against that plan.
I did not reach my goals. In the last two years I have not hit my timelines and bench marks and have not lived out all those moments. And as any logical person would do, I asked myself why not?
Here is what I realized.
All of those plans where centered around ONE specific requirement on MY part… to finish writing a quality memoir of my life.
I did finish my first attempt at my memoir, but it wasn't good enough. I am a green writer and these things take time, and lots of re-writes! So when it came down to it, I did not do MY part. I had a plan, I had a vision, I had belief, but I had let the hustle die. I had written two versions of my book and then I got discouraged. I let it get to me, and got lost in the doubt and let the project sit on my shelf. So how can I question if any of this works if I'm NOT doing my part? How can my memoir end up on the New York Times Best Seller List, if I never finish writing it? I mean helllloooo!
Sometimes when we find ourselves discouraged, because we are not making the progress we set out to make. Or because it's taking too long. Or it's not happening the way we envisioned it to go… maybe we need to stop and take an unbiased inventory of our part in the process. Have we met and exceeded our goals? Have we finished what we set out to accomplish. If not, why not?
The magic can't work if we have not put ourselves in the position to receive it. We can not expect success without work. We can not expect wealth without effort.
Our dreams are dependent on us doing the work to put us in the position to make them come true. If we have not adequately prepared, if we have not done our part, then no matter how much we struggle to get our dream to manifest –it remains just that, a struggle. Not a manifestation.
Want to work with me? Learn more about my coaching and schedule a free 15 min consultation to learn how you can live your dreams!