Intro to HBR With Sarah Centrella -FREE Course
I'm excited to offer you (for the first time ever) a FREE online 1 hour course: "Intro to HBR." In this course you will learn the 8 step #HBRMethod plus tips and tools you can start using right now to improve your life TODAY!
Also you'll hear my interview with Olympic hopeful Josue Louis who's story is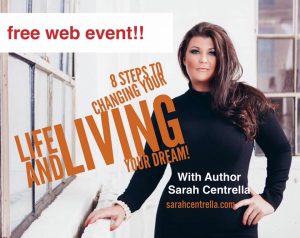 featured in my book Hustle Believe Receive. Hear how he uses #SeeIt and #BelieveIt and of course what his Hustle looks like.
You'll also hear from Deborah Laurion who's one of my certified HBR Coaches, how the #HBRMethod has impacted her life. PLUS you'll get two great homework assignments that will begin your transformation!
My subscribers automatically got this archive so be sure you're signed up to get my newsletter by CLICK HERE to get access to this course now.