New Year, New Habits: How to Set Achievable Goals to Insure Success

The start of a new year is the perfect time to create new habits and set achievable goals to insure long term success.
I'm a firm believer that to do anything, you need to have a clear, compelling end goal from the start. You've gotta see that BIG "impossible" goal or dream so clearly that it makes you want to get up each day and work towards it.
BUT… You've also gotta have achievable and realistic starting goals. So many people get overwhelmed by the big goal because they look at their current life, and think; there's no way I can make that happen!
But the truth is, you can. Regardless of your goal, no matter how "insane" it is, you CAN achieve it.
How?
By starting small. Make a daily goal that you can ABSOLUTELY commit to, something you KNOW you can do without killing yourself. If you're daily goals are not realistic you will lose steam quick! Trust me I am the poster child for this!
If you've followed me for a while, or read my book Hustle Believe Receive, then you know I've struggled with my weight since childhood. Or to be more precise, I've MENTALLY struggled with my weight since then. Theres been many times when I've been in amazing physical shape, at a great weight with a low BMI, and still thought of myself as obese. That issue I've tackled over the years using my #HBRMethod step #ThinkIT, which has truly allowed me to reprogram my thoughts and beliefs about myself. But, like anything else, if you get lazy and stop practicing the tools, you find yourself right back to thinking negatively and lacking positive results.
So, to get back on track I went right back to analyzing my thoughts. And sure enough, they were shit. Full of self-loathing and de-motivating frustration. And shocker, I hadn't gotten positive results (where my weights concerned) in about three years. I also noticed that two other key ingredients were missing the last few years; 1. I'd started to BELIEVE that I could NOT get back to my happy weight. 2. As a result I'd never been "all in" when I'd try to start a new healthy routine.
My advice to you, if you have a goal for 2018 is to:
Decide you're ready to make a change and go after your goals. DECIDE that you will not stop until they are realized. Period. Nothing will ever happen until you've made that concrete decision, the one that has no escape route, no possibility for failure.
Believe it is possible. Even if you don't fully believe it yet, put an ABSOLUTE STOP to any negative talk or doubt. Only speak positivity into your future. Speak hope into your future.
Set realistic goals. What I mean by this is, don't start-out saying; "I'm gonna stop eating everything bad, stop drinking and workout 7 days a week." That's not realistic and is a recipe for disappointment and defeat. It's not something you can sustain over the long haul.
A great example of a realistic daily goal is to just be active for 20 minutes a day. That's the goal I set for myself this year. Normally I go hard in January, start with all these big promises, ones I know from the start, I will not keep. So this year I set one that I KNOW I can actually do every single day.
This removes guilt and self-judgment from the equation. Before, I'd beat myself up all day long about how I should do better. How I should work out, or eat a certain way. Those thoughts trailed me every day! Nagging and nagging. Making me feel embarrassed, ashamed and guilty.
Now I KNOW that every day I'll do my 20 minutes in the morning, freeing my brain space to focus on more important things the rest of the day.
The beauty of this is that I also know that over time I'll start feeling better, and adding in extra time or methods of working out, which will lead to healthy eating, etc. It will happen organically. I know this about myself, it's worked like this the few times in my life where I've been successful, and I know it will work again. Now the pressure is off! I've freed myself. I've released the negative energy that went into this part of my life each day, and I've started seeing results.
We are 10 days into the new year and I feel like a new person compared to 10 days ago. I've lost 5 lbs and about a pant size! More results than I've seen in years. I feel happy. I feel energized. I want to go every day!
Now trust me, I have a big goal in mind too and my vision board reminds me each day what that version of me will look like when I've manifested it, but to get me there I'm checking off my goal each day and getting steady results.
The key to success at ANYTHING is determination and consistency. If you have those two things you will succeed at any goal.
Habits form in 30 days, so this month I'm focusing on a whole new routine, creating good habits that will propel my success in all areas of my life.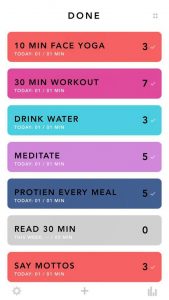 What are your goals? Can you make a daily goal that is something you're willing to commit to n
ow? Then all you have to do is show up. Just do it. Do it tomorrow. Then the next day… Like they say in AA… one day at a time.
Follow me on Instagram @sarahcentrella where I'll be sharing my gym moments every day so that you can hold me accountable and do this with me. It's a simple goal. Anyone can do it. Evenwalking your dog for 20 minutes counts! Or walk around the grocery store for 20 minutes. Just do something, it's the start of feeling better and gaining control of your life.
Also be sure to track your daily goals to help keep you motivated. I'm using an app called "DONE" its super easy and visual, two things I need to keep using it regularly. I'm finding it very helpful and motivating, plus it sends me reminders… have you been active for 20 minutes today?
Need a little boost? Join me for 8-weeks of coaching calls learning my #HBRMethod so you can make 2018 your best year yet! Course starts Jan 20th REGISTER NOW