Sarah Centrella in The New York Times.
I woke up this morning to an email saying that our story was featured in today's New York Times!! I can't even tell you know much of a life long dream or even bigger than a dream it was to see our story in the top paper in the country.  Of course I had to run to Starbucks and buy the stack to frame up for the kids, it was a pretty fun moment for all of us, it's still hard to believe that we were one of three stories chosen out of thousands submitted to take part in this national focus for the American Red Cross. It's such an honor.
Without question today was a pinch me moment.  One of those when you stop and say, wow I can't believe it! It's really happening. This little experiment that I put out into the world a little over two years ago, to prove that anyone can change their life, it's really working. It's happening. Anyone truly can make  somethin' outa nothin' the same way I've been working my butt off to do.

This blog has been my journey, my road map to my goals, dreams, and my strategy that anyone can adopt.  I'm living proof that the Law of Attraction works. This is such an amazingly huge manifestation, and one that at first came in the form of tragedy, or disaster. But even that was all part of the greater plan, though I couldn't see it at the time; I kept the faith.  And now eighteen months later, here we are.  Amazing.
In all things find gratitude.
And when life gives you lemons, make Lemon Drops!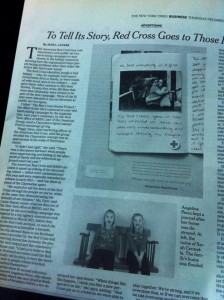 Photo of Mira and Izzy in the NY Times
Sarah Centrella is the author of the book Hustle Believe Receive which teaches you how to apply the #HBRMethod to change your life and live your dream.
Follow on social media: Instagram | Twitter | Snapchat | Pinterest | YouTube |Periscope @sarahcentrella