My Hustle
I talk a lot about #TheHustle.  In fact I'm even writing a book about it! It's kinda my shit to be honest. But for those of you who don't know what the hustle is all about I thought I'd share with you what my daily hustle looks like.
This is what #RelentlessPursuit of your dream looks like in real life. The behind the scenes version.  What does it take to get a book published and attempt to launch a brand, while holding down a full-time job and being a single mom? This is my day, basically every day for the last year. Maybe it will help give a little perspective on the hustle it takes to make your dreams a reality.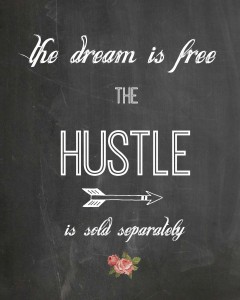 2:10 AM My phone rang.  It was my office manager for my day-job in New York wanting to make sure we had everything lined up for the deal we'd spent the last 24 hours trying to close, which had a 9:00 AM EST deadline. I walked her through the plan and double checked everything, lights still off, head still groggy, eyes glued shut.
 5:55 AM My alarm blasts next to my ear, I ask Siri to call the number for my morning conference call with my New York sales team.  This call happens every single morning, at 6:00 AM.  Today I have to lead the call, and I'm still so exhausted I have no idea what day it is. I rack my brain trying to clear it and remember what I'm supposed to say, I sit up in bed and open my eyes hoping that will help.  But there's no way to sound alert at this time of the day for me.
Mornings are my nemesis.
7:00 AM I wake the girls, pulling them out of bed. Packing lunches, making breakfast, making a pot of coffee. I push, I pull, I prod, some mornings I yell. It's impossible to get these girls out the door in time, and I notice that I'm still in my robe when they are finally ready to go. I rush to throw on some sweats and drive them the four miles to school. I'm careful not to speed as I've already gotten a ticket once, trying to beat the last tardy bell.
8:15 AM I'm back home making Kanen breakfast, and lunch and getting him off to the bus stop.
8:30 AM Finally I'm ready to sit down and catch up on my emails, check in with work. My office is in my bedroom, and I feel claustrophobic.
From 8:30-12:00 I work, making calls, setting meetings, following up on deals. Grinding on my day job.
12:00-1:00 On a good day I get to go to my Barre3 workout.  On normal days something comes up and I can't.
The rest of the afternoon I finish up work, scheduling upcoming trips, booking meetings for them. Hosting or listening in on conference calls.  All the things a sales rep with a national territory has to do to keep their job and make money.
4:00 PM I leave pick the kids up from their after school program.  On my way I check the mail.  In it is a notice saying I forgot to show up for my speeding ticket court date, and what could have been a free online class is now a $600 judgment.
I want to cry. Or kick a tree.
I've been carrying that fucking ticket in my purse for three weeks, with my to-do list a mile long, saying every day that I'd drop it off and take the class. But I'm always just one step behind the eight ball.
I start the car, and the light reminds me that I'm now two quarts low on oil instead of the one I was a few weeks ago.   And oh yeah, my breaks need replacing, my car's warning message tells me I should drive it to the shop, that it's late for a service. I pound my head on the steering wheel and take a deep breath. I need to be in a good mood when I pick up the kids, so I try to shake it off. Someday's it works, others not so much.
5:00 PM Is dinner, than practice, or dance class, or Kanen's basketball game, or homework depending on the day.
8:00 PM Sharp is bedtime, because on most nights I have an 8:00 Pm coaching call or book interview.
From 8:00 PM-1:00 or 2:00 AM I grind. I hustle like a motherfucker.
I have two months left on my book deadline, and 24 stories to write.
I catch up on social media, and try to keep my 900 profiles up to date.
I conduct book interviews.
I edit and rewrite the book.
I do coaching calls.
I respond to coaching clients homework assignments.
I work on my business plan, and my documentary movie pitch.
I research the best way to hire interns. Then learn I don't have the money to pay them.
I review my list of 400 things that need to be done in the next 6 months before my book launch.
I plan and stress about my book launch party.
I market.
I try to learn Photoshop so I can design my own logo. Then resist the urge to throw my laptop across the room.
I chase down the people in my book for edit notes and approvals, schedule interview times. Coordinating 52 uber successful people is harder than it looks.
I respond to messages. Email, Facebook, Instagram, contact cards, texts…hundreds of messages a day.
I blog. Or try to.
I scream at my blog and wish I had a web designer because it's a technical nightmare.
I create websites for my brands. And then recreate them.
I plan my trip to San Francisco next week, then the one to LA the week after that, then the one to DC the week after that.
The days blur together… There is no night. No day. No rain or sunshine. Right now… in this crunch hour, there is only #TheHustle.
I think I'm going crazy most days. Hanging on by a thread, like if one of these balls I'm juggling falls, the whole  lot will come crashing down. When you work this hard, and in such an isolated manner (working from home all day every day), you take rejection harder.  You notice when your friends don't respond to your text. You take it personal. You question if it's worth it, you question your sanity.
My kids are my saving grace. When they are home, the phone turns off. The laptop closes. And they rejuvenate me.
And when I look backward, there's no way in hell I'll go back to what you used to know.  And then I look forward and it's everything that burns inside of me.  I want it so bad the taste is always in my mouth.
You thank God every day for the small signs that come, and they do come, even on hard days.  They let you know that its' going to all pay off.  That one day it will be worth it, and that you are making a difference. Those rays of light fuel you like nothing else could. You hold on to them and keep moving forward.
No matter what you keep moving forward.
How bad do you want your dream?
Sarah Centrella is the author of the book Hustle Believe Receive which teaches you how to apply the #HBRMethod to change your life and live your dream.
Follow on social media: Instagram | Twitter | Snapchat | Pinterest | YouTube |Periscope @sarahcentrella