Manifest Your Dream Vacation!
Last night I got home from the vacation of a lifetime with my kids. I've been to New York many times over the past five years for work, but on every trip I'd wished that my children could fall in love with The City the way I have.   Only one problem… I'm a single mom on a budget, one that does not allow (yet!) for such extravagant trips across the country for a family of four.  Never mind that NYC is the most expensive city in America!
Never-the-less my kids and I had been dreaming of the day they could make the trip with me, especially after they saw the movie Annie.
The last few years have taught me to expect the impossible and believe in a little magic, because God knows I've been putting in my hustle! And so this past week I proved yet again that the #HBRMethod is no joke! It really can manifest your dream.
Here's how:
In February of this year I'd finally acquired enough miles (through all of my work travel) to purchase four round trip tickets to New York (I only had to pay the booking fee of $25 each ticket #MoneyAintAThing!). I booked them immediately using #CourageOverFear to trust that somehow the rest of the trip would fall into place. I knew finding all four tickets was a sign that this trip was a #ManifestThat! moment in the making.
Back in 2011 I stayed in a hotel in Midtown, which was then called The Alex Hotel.  My job had made the arrangements, and I was so floored by it that I made a video and posted it to my YouTube, realizing that I'd manifested that moment. I wound up staying at the same hotel several times, and one day I got a room that blew me away!  It was a beautiful 2 bedroom/2 bathroom full condo/suit with an uninterrupted view of the Chrysler Building. I remember sitting on the couch looking at that view, and around the giant condo, and being so excited and sad at the same time.  I couldn't help but feel ecstatic at how beautiful it was, but I wished more than anything that my kids couldn't see it and experience the magic I felt that night.
I made a promise to myself that somehow, some way I would bring them there.
Fast forward to this year and I'm searching online for a "reasonable" (nothings reasonable in New York!) room for the four of us and of course I look up that hotel.  I was disappointed to learn that they'd turned it into a time-share by Wyndham, and that it no longer functioned as a stand alone hotel, but it still offered a limited number of standard (plain) rooms.  I had been so set on showing the kids this hotel that I decided to book a regular room with two double beds, even though the experience wouldn't compare.  At least then they could stay in the same hotel I'd stayed in four years before.
When we arrived at the hotel at midnight the front desk clurk looked worried.  She went to get her manager and after a few minutes of looking at our reservation and whispering behind the desk, he said; "I'm so sorry, but it looks like we've given away your room for tonight. I could however, upgrade you to our two bedroom suite at no additional charge." I screamed quietly inside and graciously took the keys. (#MoneyAintAThing!)
When we walked into the room, my kids and I all started screaming! It was the same room I'd stayed in four years before!! Kanen had his own bedroom with a panoramic view of the Chrysler Building, and his own bathroom. The girls and I shared the master bedroom and bath. It was beyond a dream come true, even if we only got to keep it for a day. #ManifestThat!
That is the power of the #HBRMethod to deliver your dream in a way you'd never expect and bigger than you could even dream it! I never let go of the dream that one day my kids would see the view from that room, and I manifested it exactly without it costing a penny more!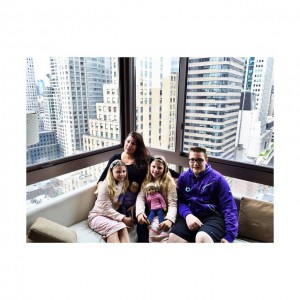 Aside from the cost of the room I did that entire trip to NYC on under $600 for a family of four!!! You don't have to be rich to live like you are! You just have to want it bad enough, be willing to work for it, believe in it with your entire being and then take the opportunities when they are presented.
This is just one tiny example of how I've manifest experiences far beyond what was ever on my "vision board" I have so many more, using the #HBRMethod.  If your ready to change your life, just know this… YOU CAN.
CLICK HERE TO SEE OUR FULL PHOTO ALBUM (also following on Instagram and Facebook is the most "real time" way to follow for photos and updates) CLICK HERE to watch videos from our trip.
*The hashtags refer to steps of the #HBRMethod as outlined in my book #HustleBelieveReceive. 
Sarah Centrella is the author of the book Hustle Believe Receive which teaches you how to apply the #HBRMethod to change your life and live your dream.
Follow on social media: Instagram | Twitter | Snapchat | Pinterest | YouTube |Periscope @sarahcentrella