Oracle Open World…Pinch Me!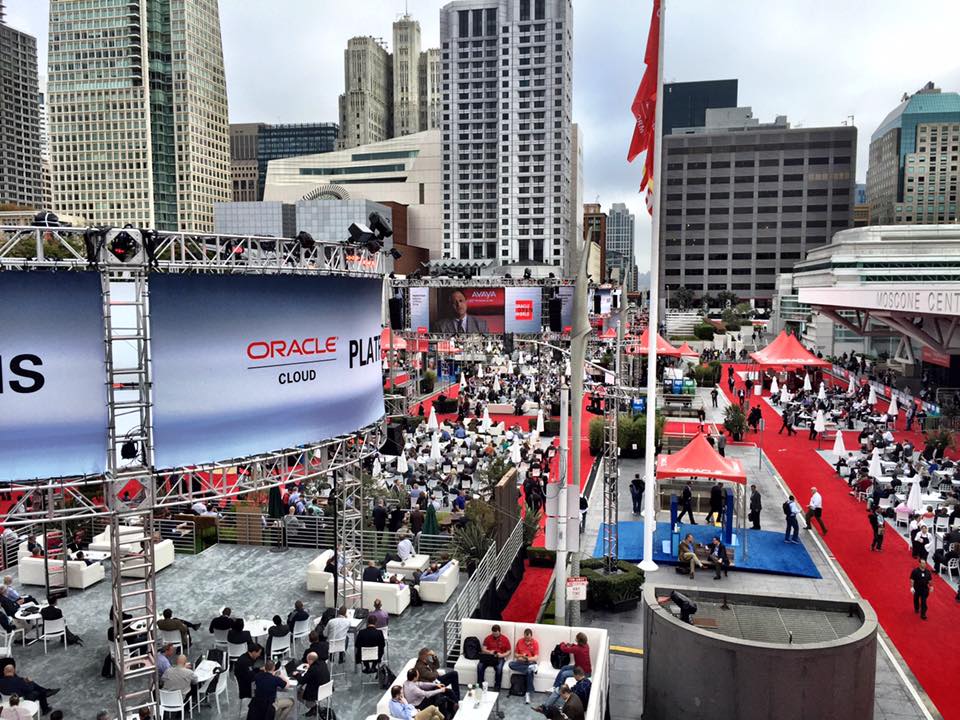 When's the last time you felt like a delighted three year-old child? Or like you were in the middle of living your ultimate dream? It's not every day you get both of these emotions at once! Yesterday was that day for me.  I'm in San Francisco California for a work convention called Oracle Open World (for my "day job"). It's a pretty big deal in the corporate tech world, thousands of people come from around the world to learn the latest and greatest about Oracle, and to get wasted at parties with clients and coworker's. It's four days of around the clock action, standing, walking, blisters on your feet, coffee all morning and afternoon, and then the happy hours, dinners, and after parties begin. It's a lot! But it's also a great time, let's be honest. Exhausting though it may be.
Well yesterday after posting a pick on Instagram about the show, I got a message from the social media team hosting the conference asking if I'd like to take part in an exclusive experience, and you know me… I can never say no to an invitation like that!
When I showed up at the "Voice of Data" tent for my exclusive tour, I was met by the media team and about ten cameras, boom stick, microphones, and videographers! My guide explained that I'd be recording my voice saying anything I wanted, as long as it was just 3 seconds.  She asked if I knew what I'd like to say, and of course without hesitation I recorded: "Hustle Believe Receive." When the film crew asked me why I'd chosen those words and what they meant, I was happy to explain that not only are they the three words that changed my life, but their also the title of my new book.
I watched as a laptop converted the recording of my voice into data, then sound waves, then sent the data to a laser cutter machine.  And right there, before my eyes I watched as the sound waves my voice made when I said those three words, was etched into a leather strap for my one-of-a-kind bracelet. It was kinda the coolest shit ever!
When we finished recording the segment, they asked if I'd like to float #InTheCloud…. Ummm hell yes I would!
We walked through the convention, film crew documenting my journey, until I got to a giant white box. I walked up the ramp and there was the biggest, most glamorous ball pit I've ever seen! It looked like an enormous bubble bath, complete with mirrored sides. I've never in my life jumped into a ball pit, not even as a child.  There was about three seconds, where I thought; what the hell am I about to do! But it's hard to chicken out at something like this, with an entire crew watching your every move and waiting for you to take the plunge.
So I did, we'll sort of. I tip-toed in…and it was amazing!
There are few moments in life that feel like PURE joy. Moments when we laugh out loud and forget that when we laugh, we can have a double chin. Or close our eyes and bask in fleeting bliss. For whatever reason, that's what yesterday was for me. A serial moment in time that stuffed my insides with pure joy. Where I felt truly comfortable and at home.  I know in my heart that someday this kind of experience will be my daily life, and living it out in small glimpses like this makes me less afraid, and more excited for what's to come. It let me know that when it happens, I will be in my element. I will feel true happiness, and use the platform to bring joy, inspiration, and hope to others. For anyone else this experience might have been "kinda cool," but for me it was a practice run. It was one more opportunity that the Universe delivered, so that I could taste what my dream will feel like when it becomes my reality. It was a #ManifestThat moment which continues to fuel my passion, and makes me even more determined to chase my dreams!
Are you living your dream? What is your dream?
GET SOCIAL!! Follow me on Snapcat/Instagram/Twitter/Pariscope for live feeds of all the insane moments in my life!
Thanks to Oracle for shouting me out on Twitter and Instagram