Have Faith.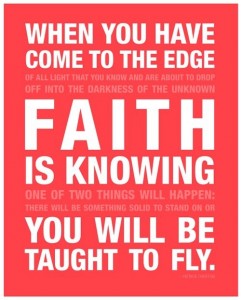 Faith can move a mountain…
If you are a frequent reader of my blog then you have heard me talk about how "everything happens for a reason" and to "trust the Big Picture", and this week I've been amply reminded of why both of these are my life motto's.
See when you unquestionably believe both of those statements, then you are at a place of peace. Even when you are being tested and fear starts to creep in, you can rely on your faith to get you through those moments of doubt and mental corrosion.
I'm not saying I haven't had a few of those thoughts this past week. This has been the most trying week maybe ever for me. It was a time of total uncertainty. My three children and I were at the mercy of the
American Red Cross
, essentially homeless waiting to see what the verdict would be, see if we could go home or not. As a parent it has been terrifying I'm not going to lie.
The past month I've seen much of what I worked the past three years for, come tumbling down. It was a dedicated effort to kill those voices in my head that told me I failed. That all the work I've done was for nothing, that I'm no better off now than I was then. Those voices could of destroyed me this week if I gave them the room. It was difficult not to listen to their argument and go with their verdict. But I just am not willing to do it. Not willing to buy what their selling, I know better now.There was that small part of me that thought, I can't do this again. I can't start from scratch and rebuild my life yet again. I'm tired. I want to sit on the floor. I don't want to get up. I want a self-induced pity party. So I allowed myself that emotion twice this past week. But that was it.
I know how important thoughts and emotions can be, I didn't want to dwell on those thoughts and emotions. However I'm human like everyone else, and to top it off I'm a chick! Of course I would have an emotional reaction! To deny myself of that, would be harboring those thoughts and allowing them to eventually take up more mind-share then just having the melt down and moving on.
So I made a conscious decision, to stop thinking and verbalizing the "worst case scenario". I decided I would only focus on the "best case" and in my heart of hearts I KNEW UNQUESTIONABLY that the best case would be THE case. That's what the
Law of Attraction
has given me, that's its present to me. That instead of letting fear convince me that the worst case is "always my luck" I've learned, that thinking is straight bullshit.
It took about an hour after that for me to get the text, that the house would be fixed (this coming week no less!) and that yes, we can go home! A few minutes later in my email in box was an offer-letter for a great position, that I know will be just what my family and I need to get back on our feet quickly and happily.
The moral of this story is this…if you thought
The Secret
or
The Law of Attraction
was a load of crap, I hope that you watched my week long struggle and can see that the advice I give comes from a place of KNOWING that this works. It works EVERY TIME for ever situation if you TRUST it and gain control of your thoughts and emotions.
Keep your eye on the prize, whatever that is for you.
#1. This too shall pass.
#2. Everything happens for a reason, be patient but know that it will reveal it's self in time.
#3. You can control your thoughts and emotions in ANY situation.
So don't be your own worst enemy, take a deep breath and rely on what you KNOW. That you will attract into your life what is right for you. It might not be what you want in the moment, but if you trust it to deliver your
Big Picture
then know those hard times, are like an
Earthquake
rearranging everything, shaking out the bad and making room for new construction.
You (and I) are gonna be okay.
---
Sarah Centrella is the author of the book Hustle Believe Receive which teaches you how to apply the #HBRMethod to change your life and live your dream.
Follow on social media: Instagram | Twitter | Snapchat | Pinterest | YouTube |Periscope @sarahcentrella