Amen.
I was sitting in the Doctor's office today, trying to use every technique I know on The Law of Attraction and positive thinking. But I was scared, still am. Dealing with your health and issues that threaten it are
no joke. It has the capacity to hit you sideways and make you question your faith. My natural tendency prior to learning the power of my thoughts and how to control them would be to FREAK THE HELL OUT right now. That's what I want to do. It's a mental tennis match not to.
I watch my Doctors face as I describe how I've been feeling. She listens to my breathing, checks my vitals, puts her hands on my neck and throat. I cough. I can't breathe, I tell her. The pain is obvious in my face, probably the fear too. When her hands push on my thyroid, I wheeze and tell her that's enough, I can't breathe.  I see it in her face too. She knows me, we chit-chat about cheating husbands, life after divorce, what it's like when you've unknowingly been living a lie. She knows I'm not bluffing.
She leaves, orders the nurses to call in appointments, to not take no for an answer with the scheduling Nazis who try to push everything out weeks. I'm too tired to pay much attention, any focus I
have is on just this moment, nothing beyond it. I won't entertain that.
I leave her office. Head in a spinning daze, find my way through the parking garage to my car, sit and stare at the dashboard. I pick up my phone and dial my trainer. I regretfully (not really, it's the best excuse ever to get out of a workout, let's be honest!) tell him I can't make our 7:00 AM session tomorrow. He asks why, so I tell him what just took place, the thoughts that are kicking around in my head.
He pauses then says exactly what I needed to hear…
"I will pray for you, and so will my people. But you know what thoughts and words are capable of. If I were you, I'd not repeat any of what you just told me. Don't give it that much power. Don't re-say those words again. Words are powerful they can bring about reality."
"Ironic" I say.
I needed to hear that. I KNOW it. I BELIEVE it. But I needed to hear him say it anyway. I knew all the places my mind was going, and I know it doesn't have any business taking that road, I KNOW this. If you don't want something to be true, don't talk about it like it is, or could be. Words are so powerful. Thoughts are life changing. For good or for bad. I sure as hell don't need the bad ones attracting to me, so I needed to change my mental space fast.
I put on a little hip-hop a song that always makes me wanna dance, cranked it up as loud as I could stand it, for the drive home. I practiced my smile like an idiot in the rear-view mirror.  I wanted my daughters, who run out of the house to meet me every day when I get home, to see me smiling. I wanted to be happy and in a good mood for them.
Sure enough, when I pull up, they are dancing in the pouring rain on the balcony in their boots and rain coats, as if it's raining M&M's. They wave and smile at me, I give them the; "You're the best thing I've ever seen in all my life!" Outrageous waves, and smiles in return.
When I get out of the car, Izzy says: "Mama your car looks like joy".
Amen.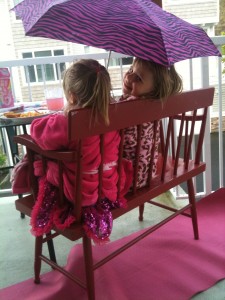 Sarah Centrella is the author of the book Hustle Believe Receive which teaches you how to apply the #HBRMethod to change your life and live your dream.
Follow on social media: Instagram | Twitter | Snapchat | Pinterest | YouTube |Periscope @sarahcentrella