New York, New York.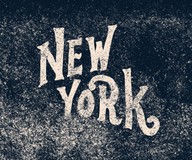 New York, New York…
God I love New York. I mean I always have, from the first time I came here with my little sister when I was 23 and she was 18. We stayed in a hostile off of Broadway and watched the Macy's Day Parade on mute in our dirty cramped room, listening to it live outside our window. Too lazy to brave the rain. 
I loved it when my ex-husband and I came 3 months after the twin towers left holes in the ground from September 11, 2001. We walked the streets, in silence as I captured the scene
on my trusty old film camera. Smoke still coming out of the wreckage, military in gas masks stationed everywhere; make-shift prayer sites on every corner. The American Flag planted by NYFD flapping in the cold December wind. But most haunting of all were the thousands of pictures, posters on every available surface of loved ones who where missing and now presumed dead. The memorials throughout the city; dried roses hanging on fences, candles burning day and night next to framed pictures of fathers and children, husbands and wives, grandparents,
reminding us how intensely personal this all was. 
Yes I loved it then. I loved being one of the few tourists in the city. Loved the special attention we received from New Yorkers showing their love, appreciating the fact that we'd take the risk of boarding a plane to see their amazing city, when no one else seemed quite ready. 
But now? Oh god! Now I LOVE New York! 
I've never known 
it like this before. Both other times I'd come on the strictest of budgets 
staying in youth hostels to be able to have enough money to eat off the hot dog 
carts! 
No more baby! This is MY New York now.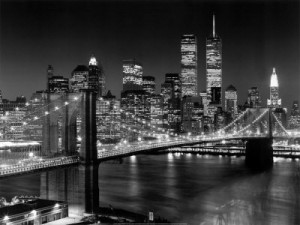 Brooklyn Bridge, NYC
I get off the plane and head to grab my luggage, rolling it out to the freezing January afternoon at JFK.
My driver loaded my massive red suitcase in the back of the town car, asked for my hotel and sped off in the ice and snow towards, my promise land.  
I put in my ear buds, turn on I've made It, by Kevin Rudolf, cranked it up as the sky line
suddenly appears directly outside my window.
I can barely contain my childlike excitement.
"I look up to the sky, and know the world is
mine, I've know it all my life…I've made. I used to dream about the life I'm
living now, I know that there's no doubt, I made it.
No one believed in me, but I never gave up
the fight. But now I'm on top, I told you I'd let it ROCK, now money's falling
from the sky! I made it."
I can't believe I'm here.
It takes my breath away, all of this. It was just over a year ago that I was a stay-at-home mom with nothing, dreaming of this life, this moment.  
Here it is.
I pinch myself.
Open my window so the cold will sting my face and keep the tears at bay. 
My car pulls up to my hotel, and the valet opens my door. 
I'm dressed in all black, from my knee high 4 inch heels to my wool coat. My fake Louis Vuitton Bag on my shoulder, hair in a slick pony tail, Gucci style shades still on as I walk to the front desk trailed by the valet with my bags.  
"It says you're from Oregon on here, but that can't be right?" The front desk manager asks
looking me up and down slowly with a smile.  I'm being hit on by an obvious native New York Italian Guido; his accent is thick and charming.  "You're really from here right? Girls like you don't live in OREGON!"
"
Thanks, I guess". I say with a smile. "Yeah this feels like home to me." 
"Well then, welcome home Miss Centrella".
I walk down the hall to the elevator, and promptly freak out! I do a quick little dance, like a spider crawled down my shirt, and let my smile take over my body. I get my composure quick before anyone sees me. After all I'm a New Yorker now, I wouldn't want to lead on that this was all brand new to me. That this was the first day of the rest of my life. 
I pinch myself hard, leave a mark on my poor arm. 
I can't believe I'm here! 
Times Square, New York City
I go to my room, drop my stuff on the floor and head right back down stairs. I need to feel the city. I walk and walk, and walk. Stopping at a Jewish deli for some Matza ball soup. I walk past Madison Square Garden, up to Time Square. It's brilliance at dusk is mind-blowing.  I stand in the center and look up like a 5-year old kid. I stare in amazement, I've seen it before but this time it's like the billboards are saying my name and flashing my picture on their story high screens.
This is my city now. 
I think back to the vision board I have at my office, and the picture of Time Square at the center. Now here I was a year later. All expenses paid, standing in the middle of my dream.
I inhaled the crisp air. Listened with my eyes closed to the sounds of the city buzzing like a hive around me, smelled the roasting chestnuts form the street carts. 
I walked over to Rockefeller Center, watched the skaters gliding on ice under the flag of nations. Keep going past Radio City Music Hall and up 5th Avenue. On the way back to my room the Empire State Building guided me like the North Star. When I finally sat on my bed at midnight my feet were swollen and bleeding. But I
couldn't feel a thing.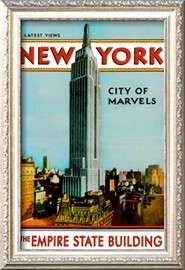 I run my meetings, gave presentations on the 80th floor of One Liberty Plaza,
with a perfect view of the Statue of Liberty out one window and the construction from 9-11 out the other. I cant help but think this is the view the people in those building saw that faithful day. As I setup for my meeting waiting for the lawyers and Partners to come in, I take a moment to snap a picture. In it I'm standing in my suit with the skyline of New York and the Statue of Liberty behind me. 
Who would of thought? An overweight, depressed new mom, struggling to buy formula would be here, taking my clients to 5 star restaurants, playing with the big boys. 
When my childhood best friend comes into town on Friday to stay the weekend with me, I know we were about to take it to a whole new level!
Her Black Card gets us center stage at the Tony Award Winning Broadway show, and a table at the Ritz Carlton for dinner, dinks at the W Hotel in Chelsea and VIP at the clubs. 
Is this for real?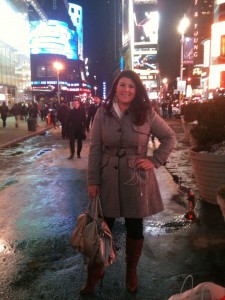 Me on this trip in Times Square walking to Madison Square Garden to watch a Knick Game in the sky box 🙂
Sarah Centrella is the author of the book Hustle Believe Receive which teaches you how to apply the #HBRMethod to change your life and live your dream.
Follow on social media: Instagram | Twitter | Snapchat | Pinterest | YouTube |Periscope @sarahcentrella