Happy Endings.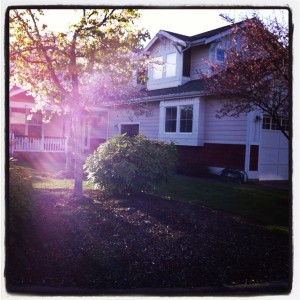 Our new dream home 🙂
I love happy endings. Fairy-tails, rags to riches, all that…especially when they are mine! I set out in January saying to myself (and probably posted it here) that 2011 would be my best year ever. If you've read my blog at all in the last year you would probably agree that a statement like that quite possibly jinxed me!
This year has been one for the record books, no question there. It's been filled with some of the highest highs of my entire life, and some of the lowest and most terrifying lows as well. The funny part is it's not just one or two lows, or highs it's been a non-stop speeding bullet roller coaster the entire year. So much so I probably suffer from whiplash (as do you my poor reader who's wondering from day to day what craziness I'm about to post!). But through it all I could never shake the belief, the faith I had, that this year would bring something great. Something HUGE, something epic. I held on through the cascading free-falls knowing with some ridiculous certainty that in the end there would be a rainbow… a happy ending to this year.
With work comes results.
With belief, vision, and hustle come reality.
With struggle comes strength.
With pain comes wisdom.
With lows come highs.
With failure comes unparalleled success.
With perseverance comes triumph.
With haters comes motivation.
With life comes lessons.
With disappointment comes determination.
With rain comes the rainbow.
I wish it didn't take until December of 2011 for my belief to be realized but I'm so glad it was. It will be worth all the above, when in two days I move the kids and I from Portland Oregon to Seattle Washington to start my new job, live in our new house (first time ever for my girls to live in a real house) and begin our next chapter of this journey.
After being laid off 3 times this year; having our home flood and leaving the kids and I essentially homeless for 3 weeks this summer, to a very real cancer scare, and so many more struggles, it feels really great to be starting fresh. I'm thrilled about my new job and it's potential, the house is amazing and everything I could have dreamed of, and Seattle will be just the place to give us a new beginning. I feel blessed beyond words.
The Law of Attraction is such a real and abiding force in my life. It works miracles daily. It delivers my wishes out of the clear blue sky, it restores my belief that life is beautiful even when it's not. It's enabled me once again to make something outa thin air. It's enabled me to have the courage to step outside my comfort zone and be open to the possibility of possibility.
"If you think you can or you think you can't you're absolutely right." -author unknown
Nothing in life is beyond your control. Your thoughts predict your future. Control them and you control your life.
And remember to DREAM BIG.
 
My favorite room in the new house!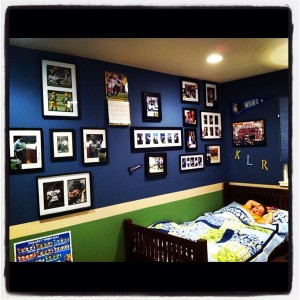 Kanen's new room and his "Reality Wall of Fame"
Check out my Pintrest Reality Board for more Manifestations