Who Said You Should Never Drunk-Dial???
Oh right, I did. Well you should know better than to listen to me. If you were wondering if I can take  my own dating advise, I'm here to say, nope, sure can't.
~
This is what happens when you drunk-dial the love of your life after not talking for months. In which you call him an asshole, while saying you want to live happily-ever-after, with him (this is why people shouldn't drink, it makes you bipolar). And after he emails you that he just spoke to a customer service rep who sounded "exactly like you", which made him miss you and send an email saying so. And after the Universe told you some pretty crazy shit which made him call you for the first time in months….
…email sent to try and correct above mentioned fuckup:
"I'm sorry I said you're an asshole. I only partially think that's true. I mean you are being an asshole, but I know why. And as much as I hate it, I also get it. You're not an asshole, just being one to me. Which I probably deserve. 
Right after I read your note, the next email I read was my daily note from the "Universe" which was crazy timing to say the least. And which pretty much fucked up my head for the rest of the day. (Smh)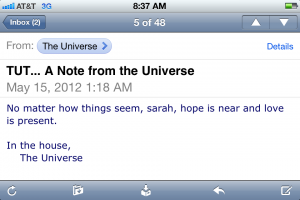 Realllly???
Then tonight Mira asked me why she never hears "
he's so fluffy I'm gonna die" when I get a text message anymore. I said because I don't really talk to Derrick (not his real name) anymore… "Sometimes grownups stop being friends." 
And my 4-year-old says; "Mama you better talk to him or he's not gonna like you any more, and you love 'he's so fluffy your gonna die', and what letter does Derrick start with?"
And I said "D".
And then I thought I  might wanna take back the whole asshole bit, so I can sleep at night.
So I mostly take it back.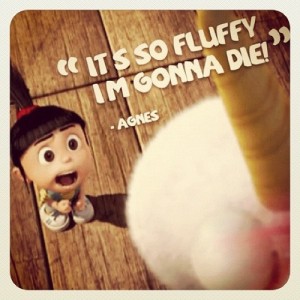 … *Sign… Tears  …FML
I keep wondering what you thought when you heard a voice that sounded like mine.  Hope it made you miss mine like crazy.  
Hopefully you deleted my voicemail before listening to it. I may have been inebriated and PMSing and cried all weekend because it was the first Mother's Day I've ever had without my kids. And because six years ago on Mother's Day I lost a baby. A mother with no kids. Alone on a day for Mothers.
It was fucking depressing.
And I wanted all day to hear you say "Happy Mother's Day" to me, but knew you wouldn't.  (asshole reasoning inserted here)
And then I wondered who you'll say that to one day.
And then I started drinking heavily.
And watched Pretty Women twice in a row, hammered, because I thought once wasn't pathetic enough. And because I think I'm Cinda-fuckin-rella and that fairy-tale endings exist.
So there you have it. You drive me to drink. And believe in fairy-tales."
I hit send at midnight.
Then regret it for the next six hours. Cringing every time I checked my email in box looking for a response.
I wake up and read this.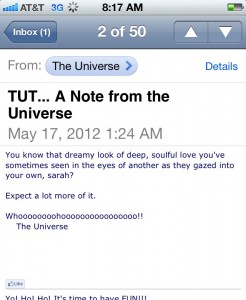 ..
Now the Universe just thinks this shits funny and is fuckin with me.
(BTW this daily email is NEVER about love or relationships, these are the only two I've ever gotten on the subject, what the hell?)
For the record, as fate would have it, that "deep soulful eye contact" it's referring to is exactly what got this whole damn thing started in the first place! The Universe knows it's shit, for real.
Then I listened to this song 793 times in a row….
And then my phone rings, I see his face pop up and I stop breathing….
Sarah Centrella is the author of the book Hustle Believe Receive which teaches you how to apply the #HBRMethod to change your life and live your dream.
Follow on social media: Instagram | Twitter | Snapchat | Pinterest | YouTube |Periscope @sarahcentrella