Red Cross Documentary Film Project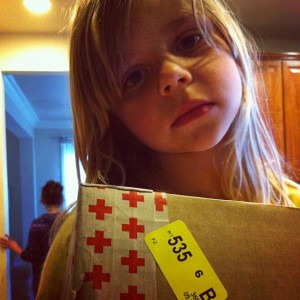 My little Red Cross poster child
About a week or so ago a casting director working with the American Red Cross came across my story Don't Count Me Out about when our house was flooded last year and the Red Cross came to our rescue.  She asked if I'd be interested in sharing our story for their National Ad (commercial and print) campaign to raise awareness for the Red Cross.
Of course I would!
The project consists of us filming our life for about two weeks, documentary/reality style.  Telling our story, individually and together and then they will make a mini-movie out of our footage and audio.  So I plan to go to Portland next weekend for the girls birthdays and finish our filming there and at the hotel.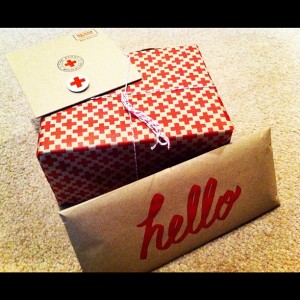 The gift box, beautifully wrapped
I am always just blown away by how the Law of Attraction works to turn things that look really shitty into huge opportunists and part of our big picture dream.  This is the definition of an "Earthquake Moment". That moment that looks like the worst thing possible at the time but if you keep the faith is part of your big picture dream.
This is sooooo part of my big dream!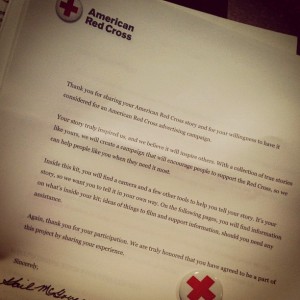 Our Welcome Letter
My big dream is to use my story to inspire people all over the world, to spread a message of hope and to teach people how to create a better life and believe in their ability to do it.  This is a great step in that direction.  She let me know that most of the stories they were considering had been submitted online via the national search, but that she was directly contacting us after hearing about our story. I'm so honored to be able to give back in some small way.  To try and repay them for how they totally saved my ass and kept my family together.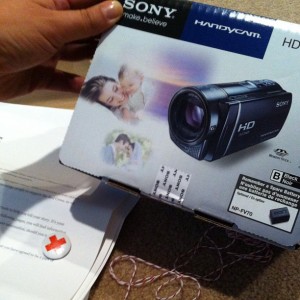 And the camera is ours to keep (and I didn't have one, only my phone)
The thing that's just crazy to me about it is that it's been almost exactly a year to the day, since the flood.  It happened this time last year, the girls turned four in that hotel.  Next weekend we will be celebrating their fifth birthday.  So when you have patience and believe things will work out they do, when the time is right.
But I promise you this is just another perfect example of my philosophy of Hustle.Believe.Receive. This didn't just randomly happen.  I actively one night posted that story on every Red Cross site I could find, if nothing else I knew it would inspire volunteers to know that the job they do changes peoples lives.  So that was my "hustle".  Notice I didn't just sit on my ass and expect opportunities like this to fall in my lap, I did my part.  And then the Universe did the rest.  It aligned the start that the casting director found my story, went and read it and was then moved enough to contact me.  After a phone "audition" I waited to hear back for about a week.  That is the Believe.  I knew I'd done everything I could do on my own, the rest was up to the Universe, I believed that I would get it and I did! We got the gift box with our documentary filming instructions and camera yesterday (that's the Receive).
It really is that simple. It an easy formula and I've put it to the test in examples all over my blog (check the tag Manifest This for more examples). You can do it to! But you have to be AWARE in your own life and look for all the little signs that are aligning to make your dreams happen.  It's like a big puzzle look for it, knowing it's there somewhere, that you just need to piece it together.  I promise you if you follow the formula it will work for you too.
Stay tuned, my hope is that the kids and I get picked to be their national print and multi-media family, but no matter what happens this is already an amazing opportunity.
Believe in magic y'all!
Update Dec 13, 2012 Here is the finished product that is airing on major networks now:
Sarah Centrella is the author of the book Hustle Believe Receive which teaches you how to apply the #HBRMethod to change your life and live your dream.
Follow on social media: Instagram | Twitter | Snapchat | Pinterest | YouTube |Periscope @sarahcentrella