Happy 4th!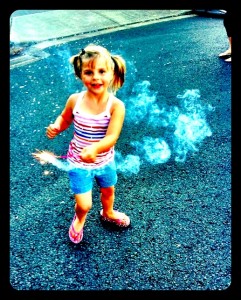 Izzy last 4th of July
I'm antsy.
Like the way you get while standing in line waiting for your turn on the roller coaster at Six Flags.  Like you know the ride you're about to get on is going to be terrifying, but in an awesome way.  You know it's gonna go fast, and you'll feel out of control, but you've been preparing yourself; you know what to expect. You've talked it up in your mind, convinced yourself you got this.  Now it's just time for the damn line to start moving so you can get on, strap your ass in, and commence the ride of your life.
That's how I feel.
Like I'm standing in line for the roller coaster of my life.  In the rain.  By myself. But at least the ride is open and it's accepting riders, I just need to be patient and wait my turn.  I want my turn.  I want the ride to start.  I'm ready. I promise. I'm sick of waiting!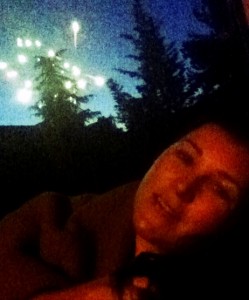 This year, me home alone…depressing! Firewroks anyone?
This is the calm before the storm.  I feel it in my being.  I know it, and trust my instincts, and am doing all I can to be ready.  I know I'm going to look back a year or two from now and dream of quiet days like today when I just lay in the (rare as hell) sun all day and burn my pale skin.  I know I will.  But I don't care. I want it now!  A fast life has always suited me, and kept me focused and I'm ready. The quiet calm is killing me!
Bring it.
I just know that this time next year I'll spend the 4th of July like a normal person should, surrounded by friends, fun, water, sun and fireworks.  And not alone on my porch writing my blog, like a total fucking loser.  I have FAITH!!! Let's get this damn show on the road!
Happy 4th everyone!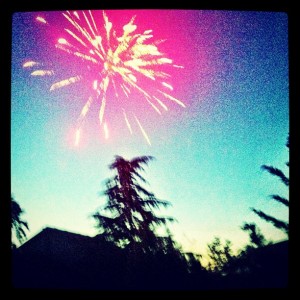 View from my chair in the back yard, hard not to be grateful for that!
Sarah Centrella is the author of the book Hustle Believe Receive which teaches you how to apply the #HBRMethod to change your life and live your dream.
Follow on social media: Instagram | Twitter | Snapchat | Pinterest | YouTube |Periscope @sarahcentrella