Hope… Pass it On.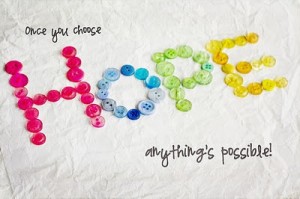 …
I'm blown away by the stories of people who have been moved or motivated by my story.  Almost daily I hear form someone that says they connected to the message of hope that I'm trying hard to put out there, and that it gave them the courage to dream, maybe for the first time.  I can't even express how that feels.
I feel like I've spent my whole life up until these past few years searching for meaning.  For someone or something to give me hope and encouragement, so I know first hand how hard it is to come by in this life.  So to be able to pass that on to people all over the globe, is so humbling and brings me a kind of joy and peace I've never known before. I guess that's what they mean when they say your passion will find you.  That is certainly true for me.
I thought I'd share vaguely three stories I heard today from readers.  The first was a friend of one of my girlfriends. He's a young kid in his twenties who has been going through a tough time, having a hard time finding his way and finding anything positive in his life.  My friend suggested he look up my blog and see if it could give him ideas on how to pull out of the funk.  He immediately said "hell no! That's girls shit".  But curiosity and fate always have other plans and he eventually did make it here and read the examples of how to turn his life around.  Now both of them are building vision boards and mapping out goals for their futures, and thinking for the first time, about what they really want out of life.  That blew me away! I love it when young people get this message. God I wish someone had told me I could control my future and my attitude when I was twenty!
Another is from a women who was searching the web looking for proof that the Law of Attraction can work, when she came across my videos on building a vision board.  She put her board up and wrote to me with about seven examples of things that have already shown up in her life! That kinda shit makes me cry every single time!
Yet another women (actually about four today alone) wrote about how building her board has changed her outlook on life.  She started noticing the changes in her attitude; the joy the process of building her board brought her, and the hope it gives her, has made her feel like, for the first time, that everything's gonna be OK.  That might be my favorite of all, because it's THAT feeling that has radically changed my life.  I lived in constant fear and panic of the future before, of all the things I couldn't control.  And now I KNOW that no matter what comes into my life, good or "bad" it's still part of the journey to get me to my end goals. So now I trust the process as much as the results, and that has changed everything.  It's given me peace.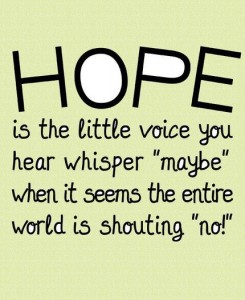 pass it on..
I struggled with whether I should share these stories or not today because I'm still very uncomfortable with the notion that I'm helping people in this way, I guess I'm afraid it might be perceived as narcissistic. Or maybe that's just my hang up I don't know.  But I assure you that I don't believe it's ME that's doing any of it.  I believe that we are all on this road together and hearing that other people are applying these principles and getting results, gives us all more hope and is so amazing.  So that's why I wanted to share them.  So you know it's not just me getting life changing results~!
So if you've tried any of the tips on making a vision board or changing your life, feel free to write your story in the comment section here, I know we'd all love to hear from you! So it's not just me up on this soap box!
And congrats to all of you that I've interacted with over the past year who've taken major steps to changing your life. I'm more proud of you than you can imagine, and your courage and faith is what keeps me blazing full steam ahead.  Keep writing I love to hear from you!
Oh… and remember to pass it on. You learn the best when you share what you know with others.  Pass on hope to someone else and see how great it feels 🙂
Sarah Centrella is the author of the book Hustle Believe Receive which teaches you how to apply the #HBRMethod to change your life and live your dream.
Follow on social media: Instagram | Twitter | Snapchat | Pinterest | YouTube |Periscope @sarahcentrella