The Push I Needed.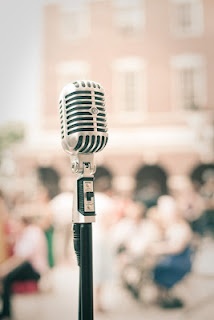 Yesterday I cold-called Steve Schiffman.  For those of you in corporate sales, you know this guy.  You've read his books and you've applied his selling techniques.  In my first corporate sales job back in 2003 I was assigned several of his books to read and to this day they sit on my office bookshelf. So yeah I cold-called him (well, cold-emailed him, meaning I didn't know him from Adam), and he called me about five minutes later!
See I've had this dream for years, especially the past three years of really getting serious about my Motivational Speaking career.  And even though all the signs have been pointing me in the right direction, even I can be a little slow sometimes.
I've been asked by several corporations including the Red Cross to give the key note motivational address at their events which I've been so honored to do, yet somehow still dragging my feet on making it more of a priority.  But the dream and vision have been as clear as day (and on my vision boards) for the past four years.
Quick LOA time-line:
About a month ago I won a free strategy session with Bob Doyle, in which he looked over the work I've done and encouraged me to take the leap of faith and begin marketing my services as speaker.  He gave me some great suggestions on what I'd need to get started and then asked the all important question… "what is holding you back?"  I quite candidly said fear.  Fear that I wasn't good enough. Creditable enough. That I had to be backed by my book being on the NY Times Best Seller list. He told me that was crazy, and to start today!
I didn't.
Then yesterday I called Steve thinking maybe I could get an opening speaking spot for one of his seminars.  Steve is awesome, a true New Yorker, and no-bull-shit.  His first question to me was "What do you want me for?" I told him what I was thinking, and he said "You don't need me! You need to get off your ass and do it on your own!" And then he said something that clicked with me "Who do you want to deliver your message?" he asked.  "Well, me" I stammered.  "And who do you want to make money from delivering your message?" I was quiet a minute and then "I guess I do".  "Then why haven't I seen you on the Today Show yet? Why the hell would you waist time opening for someone when your the main attraction? You are the brand honey! It's already there".
I let that sink in a few minutes and let the chills on my arm slide down the rest of my body. And then I said, "this is one of those days, one of those conversations that will change my life. Thank you for being that to me, a total stranger. Thank you for pushing me off the building!"
I was still spinning when we got off the phone and a text message popped up.  It was a girlfriend asking if I give motivational speeches for corporate events and would I please send her a proposal to pitch to her boss.
….. Um yeah… in case your wondering… The Law of Attraction works people! Even when your dumb like me and take a few times to be told the message that your manifestation is waiting at the front door.
Chills? Yep I got em!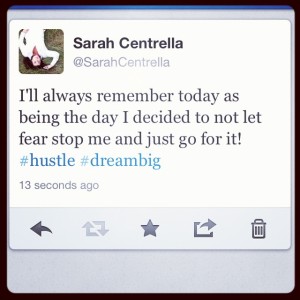 Sarah Centrella is the author of the book Hustle Believe Receive which teaches you how to apply the #HBRMethod to change your life and live your dream.
Follow on social media: Instagram | Twitter | Snapchat | Pinterest | YouTube |Periscope @sarahcentrella