Oh So Random
Oh so random.
You know that moment when you can feel the earth beneath your feet start to shift? The one when you know your life is about to change?
Yeah, I'm having one of those moments.  Have been for the past few weeks.  It's a good thing though, a great feeling.  Like that excitement you got in the bottom of your stomach when you were a kid on Christmas Eve, waiting to see what kind of magic the morning would hold.  You know something epic is about to happen and it's going to change your life in a magical way, your just waiting to see what it is.
I've been waiting for that moment for a hot minute. And in pieces, some large chunks and some little omens, it has been coming my way.  I'm getting ready to move back to Portland next month, and I'm so excited to be around my friends and family, finally, after a year and a half isolated and alone in Seattle.  That alone has me gitty.
But it's the moments when you see the universe take a shift and you watch it make two forces collide that are the most fun.  It's hard to keep your mouth shut and not trample on the moment with glee, but there are moments for trampling and moments for internal smiles….just know… I'm also silently trampling. 
This is a random post because  sometimes you just gotta blog about silly random shit that makes you laugh, and you gotta share your day with someone… so here are a few randomly awesome moments from my day… enjoy.
 
Random  convo with my girls
… the Universe is an amazing force…Manifest that!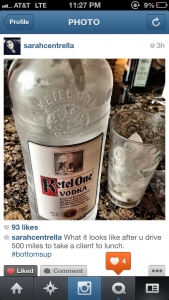 That about sums up my day…. Cheers!