Living My Dream.
Tomorrow will quite possibly be the biggest day of my life (aside from the day my babies came into the world of course), but epic non-the-less. And it's impossible to try to do justice to the flood of emotions I'm feeling, with words on a page, but I will try.
If you've followed my story, than you know that I'm a chick on a mission to PROVE that the law of attraction (as I know it, aka the #HBRMethod) works, and that anything is possible for ANYONE. And you also know how much I'm totally obsessed with Oprah. I credit her for giving me the tools that changed my life, and I've been out to prove those tools can work for anyone, using myself as a Genny-pig. As you know that decision has been life altering for me, and continues to be on a daily basis and I see more and more of my dreams becoming a reality. You've seen me struggle; and work, and fall down, and get back up, and want to quit, and fight through the defeat to try again. And you've seen it WORK. You KNOW it works, I know you do.
This is why I've kept going when I wanted to quit, because I have three babies at home who I told my dream to five years ago, and who've grown up with that dream inside of them the way it's inside of me. And when I want to quit they look at me and say; "Mama, why haven't you met Queen Oprah? She's on your vision board!" And I think, good point.. I can't tell you anything is possible, and then not prove it to you. So I hustle hard all over again. This isn't just my dream, it's the dream of my babies and it's the ultimate proof to each of you that anything is possible. This is for you too, for all of us who want a life that we didn't think we deserved to dream of.
I'm in Chicago right now, and yesterday I decided to go to HARPO studio (Oprah's headquarters) in the below zero cold, stand outside and take a selfie in front of her sign, then walk by the front door and visualize going inside, having a meeting with producers, telling them my story and my dream. And so I stood there in the freezing cold lookin' a fool while my cabbie waited for me, and I tweeted the pic to Oprah and the President of OWN, like I've tweeted to them for years.
And ten minutes later the President of OWN TV followed me on twitter, and an hour later she sent me a message, where upon reading it I immediately burst into tears and started hyperventilating! All night I lie awake envisioning my dream, that moment walking down the halls meeting everyone, face-timing the kids so they could go through that moment with me. I just knew there was more to come. I've worked so hard for it the past few years, I've prepared, I knew this moment was on it's way. I've always known it. I couldn't sleep a wink.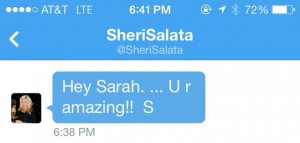 Then today I got an email from the executive VP that they'd like to meet with me tomorrow before I head back home to Portland. I was in the middle of lunch chatting with a woman next to me when I saw the email come across my phone, and started screaming right in the restaurant, and crying and hyperventilating! This is the moment. The one I've hustled and believed in and worked for, it came to me, just like manifestations always do. If I'd not put in the work, all these years, and the determination, then it would never have manifested. The manifestation is the "magic" ingredient that little piece of beautiful fairy dust that bridges the gap between our effort and the end result. It delivers timing, and stars aligning and all that jazz, all the pieces we can not. It's the piece other people call luck, but I know there is no "luck". I know it's opportunities that I've created showing up when I'm ready to receive them. And so tomorrow I'll have my moment, and I'm ready. I'm calm right now, (I'm probably start crying in the meeting), I have prepared for this moment and it couldn't come fast enough!
I share this story as I do all my manifestations so you can see first hand the cause and effect. I want you to realize that at every little tiny juncture that was a tiny ray of hope for me (the tweets from OWN TV a few weeks ago, all those tiny little signs), I celebrated each one so huge! And with such joy! To the outside world it probably seemed crazy but I knew it was all part of the big picture coming together and I relished the joy of each little win. That is such a big part of manifesting the life you want, live in the joy of every minute win. Celebrate how far you've come, cherish the moment. Laugh, cry, start hyperventilating, whatever you gotta do to feel it. Because I can tell you first hand, I'm standing smack-dab in the center of my dream, and it's taking my breath away.
PS. Totally cried listening to this song on the treadmill tonight! (the song "Believe" you might have to skip through to find it)
Click here to see what happened next
Sarah Centrella is the author of the book Hustle Believe Receive which teaches you how to apply the #HBRMethod to change your life and live your dream.