Marathon Life. Week 6 and 7.
Week before last was week six of my Portland Marathon training, but this was me that Friday night… I might have been a little distracted by the NBA Playoffs.
So yeah.. let's just say I didn't show up for my Portland Fit training run on Saturday morning as planned. But I did rally and run four of the seven miles I was supposed to on the treadmill the next day.
PROOF!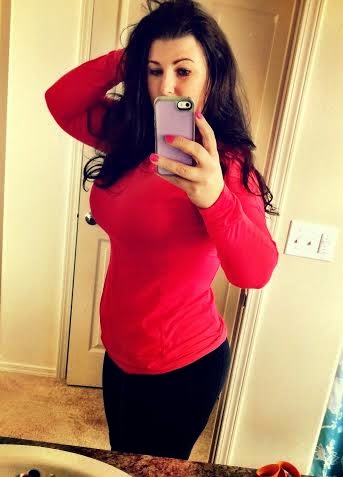 But first let me take a cheesy selfie! Week 7 marathon training.. body finally starting to show progress
But as you can imagine that did not really prepare me for my eight mile run yesterday; four up a winding hill and four down. And I remember promising myself to do my mid-week runs in preparation for the big Saturday morning runs, but alas I went to Barre3 four days this week instead. So when I hit the road with a hundred other runners yesterday, I cursed my legs for the first two miles. It literately felt like they were not moving! I couldn't catch my breath to save my life, and quickly dropped to the back of the pack (which is not all bad, less pressure if you think about it). I was struggling, no way around it.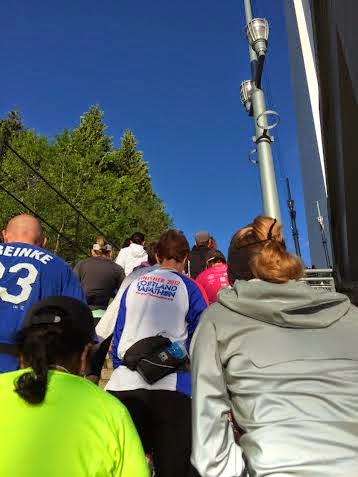 Started our run with a hillside of stairs…really?
But after about two miles, I found my pace setter.  She was about three feet ahead of me and I swear I road her tailwind all the way up that hill. Every time I wanted to quit I had to stop myself because I knew going this alone just wasn't gonna happen today. I needed a mentor.  And before I knew it I was at the top of the hill, the spot we'd turned around at on our last run, and the rest of the way was down hill.
That got me thinking. In life, like in running, we need mentors. We need to have someone to follow to give us motivation, we see them doing it so we talk ourselves into believing we can do it to, and we actually do it. It's such a tangible example of how powerful our mind is. If we tell it we can do it, our legs will keep moving and we WILL do it, the reverse is even more true. And every time I'm out there running thinking I must certainly be the very last one of the group, I look behind me and to my surprise I'm not. Someone else is running with their eyes on my feet, as motivation to keep going. That's why it's so important to be a living example of what you believe in. You never know who's watching you, who's looking to you for inspiration and motivation.  And when you share what you know that's when its full power comes into your life and you begin manifesting even faster. So be a light to someone else. Share what you know and don't be afraid to live your truth every day.
There will come a day when I will be so grateful to ONLY have to run eight miles… Just not today.
#PreparationIsClutch #smh