Portland Marathon: Impossible is Nothing.
I DID IT!!! I actually ran the Portland Marathon after eight years of having the 26.2 sticker on my #FutureBoard I finally realized that dream.  Starting on March 22nd of this year, I made a commitment, a promise to myself that this time I would not only train for the marathon, but I'd actually run it.  That decision was an absolute one, it left no room for me to back out, chicken out or change my mind.  It was simply fact; some how, some way I'd cross the finish line.  So today, after more than seven hours (no one said I was fast people!) of non-stop running/jogging and finally walking… I crossed that finish line in front of my children and two of my girlfriends.  Seeing my kids out there holding those signs for me and cheering me on, made me instantly cry.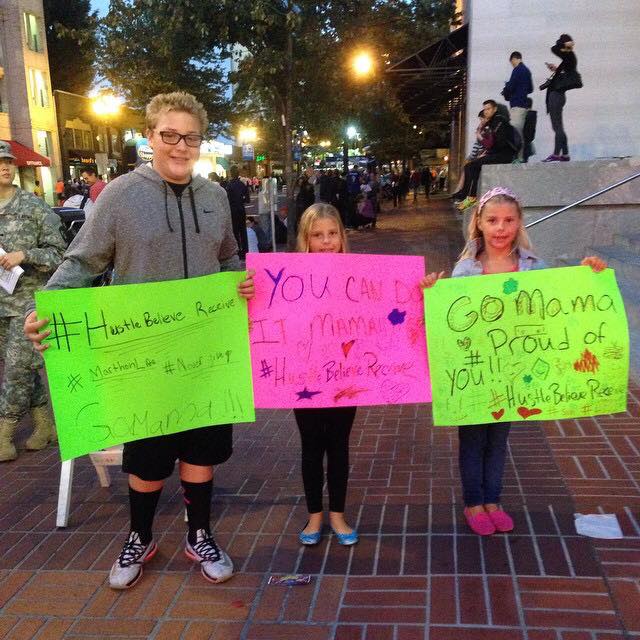 My motivation to run a marathon came a few years ago, just to get the bragging rights that came with the bumpers sticker, and run the race before I turn 40.  Since I'm six months away from turning 40 I figured my time was running out. .  And then when I failed to run after training for several months in 2010, the motivation became silencing my  son, who never let me live it down that I'd given up.  But my REAL motivation this time was two-fold.  1. To follow my own #HustleBelieveReceive steps to "living your dream" (#HBRMethod) thereby proving that anything is possible for anyone who is willing to work for their goal.  And 2. To prove to my kids that there is NOTHING they can not achieve if they put their mind to it.  They know this first hand because since March I've had to get them out of their warm beds at 6:00 am and drop them off at the sitters before my long runs on Saturday mornings.  They have done #TheHustle with me, seeing me work my butt off to make this "impossible dream" a reality.
And I did it for YOU. Because there is a dream you have, or a goal that you felt was just not a possibility for you.  It's nagged at you, but you've silenced that voice inside that says; "maybe you should just try," because you believed you couldn't do it.  So I did it to prove to you that NO MATTER WHAT your dream is, or who you are, if you want it bad enough, (and I'm talkin' in an ABSOLUTE kinda way), and you're willing to do the work and follow the steps, you will live your dream! Simple as that.   Don't let anyone tell you that something is impossible for you, and more importantly don let YOU tell yourself that bullshit.  If you believe it, than anything is possible.  Running this marathon was just a tangible way for me to prove that to you, but trust me it will work with anything in your life.
If you have a dream… LET NOTHING STAND IN YOUR WAY.