County Fair
AHHH what could possibly spell the thick of summer as well as those words?
Growing up, you might say I lived what could be described as a sheltered life (now if there is such a thing as a COLOSSAL understatement that would apply nicely here). Hence, I vividly remember once a year when we would pack up into our Travel-All Wagon and drive the 60 miles to town and spend the ENTIRE day (as in 8 hours) at the Lane County Fair.
The sun would burn our shoulders and exposed arms (SPF…what??) as we weaved through the vendor booths, pitching free hot-tub give-a way's, or giant lapel pins with your face on them. "Love See's No Color" T-shirts folded in high smooth stacks on tables. Our feet would be caked in dust and dirt, our fingers sticky from a day of greasy finger food.
We would spend hours in the animal barns, with the 4H kids, looking at ribbons and trophies that seemingly average chickens or sheep had won, only god knows why. We'd judge the look of the home backed pies to see if the ones baring the blue ribbon really looked worthy. We'd plug our noses through the rows of over-stuffed pigs nosily grunting and trying unsuccessfully, due to their massive size to dog pile each other.
The baby chicks were our favorite. Neon yellow little moving fluff balls. Noisy and adorable. The sweet, yet repulsive smell of chicken feed mixed with manure, stinging just a little. (Growing up around animals and farms, there is something comforting about that aroma, something that would only disgust the novas observer).
We would beg our parents for ride tickets, and get the go ahead for one, maybe two as day turned into night. Night at the fair is pure magic, for a kid used to the black nights in the country. The endless badgering of sounds and flashing lights must be similar to how a newly 21-er feels when they see the flashing lights of the Vegas strip for the first time!
We'd finally make the long trek through dusty fields of cars to our dirty Wagon. Then pass out the second our butts hit the backseat, sleeping on each others laps for the long ride home in the pitch dark. Only to wake up the next morning and beg to do it all over again….it did last 10 days after all!
Then in high school the fair took on a whole new meaning. That's where you went with your HS sweetheart, to waist the summer away. Riding roller coasters and tilt a- whirls, sharing elephant ears, and kissing in the B&W photo booth, to forever seal your love and the memory of a day, a moment, your youth.
You held hands. You visited the animal barns, because they were less crowded therefore, sneaking kisses and coping feels were easier to get away with. If you were lucky enough to have a license and a car (which I'm beaming with pride in this very moment to say I was one of the few and proud in my class! Paid for in cash with summer tips from waiting tables at 15), then you not only brought your lover but some friends as "chaperons'" for the adventure as well.
The summer was hot. Air-conditioning was for the rich, and something we only ever experienced at the mall. So we'd roll all the windows down, and us girls would let our long hair whip around our faces until it stung our cheeks and our eyes watered. We'd blast our hair-band ballads via the trusty cassette tape player, rewinding feverishly to hear again and again Right Here Waiting For You, or more importantly Everything I Do, I Do It For You. We would squeeze our lovers hand tightly and look into their eyes, and promise this was true.
We would be young and in love FOREVER.
No REALLY, forever.
30 was old. 16 was perfect.
We'd drive home an hour to the country, in the blackness of night only the moon or stars to illuminate those dark country nights and narrow windy roads.
We'd be tired, but ALIVE.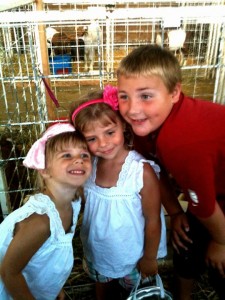 Last night, on a spare-of-the-moment decision I walked through our little county fair, near our home hand in hand with my own little brood, (the results of for mentioned high school sweetheart and 8 years of marriage).
Just them, just me.
I'd never been to this fair.
But everything was the same.
I cheered them as they lifted their chubby hands on the final go around of the little dragon roller coaster. I got them bags of cotton candy and Carmel corn.
We danced on the grass to Warrant giving a live concert (yes an 80's hair-band, who's Heaven, was a regular rewind in my first car).I showed them the fat piggies and fluffy chicks. We marveled at the massiveness of the draft horses. We felt the velvet nose of "Genius" the clear favorite, Apache gilding.
Strangers stopped us, to complement them and me. One even stopped and said something like "ill pray for you that you'll find your perfect man, it's never too late, (yes in front of my kids..What the hell???) You do a great job with them and they are beautiful"…seriously. (It's weird, trust me I KNOW this!).
And at 2 ½ hours past their bed time I put each girl on my hip, son in tow and trekked my brood through the dark dusty field to our car.
They promptly passed out the minute their butts hit the back seat.
Sometimes life does come full circle, and little things amaze you.
Sarah Centrella is the author of the book Hustle Believe Receive which teaches you how to apply the #HBRMethod to change your life and live your dream.
Follow on social media: Instagram | Twitter | Snapchat | Pinterest | YouTube |Periscope @sarahcentrella