Sink or Swim.
Why does it always feel like it's one step forward and a mile back? Like regardless of how far you've come there is always something looking to knock you down?
I thank god for The Secret or the Law of Attraction because without it, at this very moment I might want to sit down bury my head in my hands and cry. And cry. And not get up for an extended period of time.
If you are a regular reader of this blog, than you know that I go through all the same struggles as each of you, that's what makes being part of my journey real and raw and hopefully relate-able.  Well I am yet again at one of those terrifying cross-roads in life. One of the "sink or swim moments" as I like to call them. And if it were not for the tools I have learned the past few years I would let the fear and doubt drive me crazy.
But I have tools thank god. Ones that make me KNOW in my heart of hearts, in my soul that "everything is gonna be alright", as Bob Marley would say. I don't know how. I now have no job, through no fault of my own. So that means no income.  I'm back to square one after all the work I've done to climb the ladder.
But this is the time when magic, grit and hustle happen. This is when I swim.
God, one quick request…..make me Micheal Phelps.
Please and Thank you.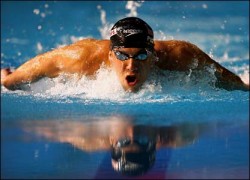 Micheal Phelps
---
Sarah Centrella is the author of the book Hustle Believe Receive which teaches you how to apply the #HBRMethod to change your life and live your dream.
Follow on social media: Instagram | Twitter | Snapchat | Pinterest | YouTube |Periscope @sarahcentrella