Books! Books! Books!
The last five months my head has been so deep inside my memoir, that every spare second was dedicated to striking while the writing iron was hot. I'd had such a hard time transitioning from blog, or short story writing to the format of a book that it took me almost a year to get the feel, and rhythm going. Then when it started coming together, it just fell out of me.  Like an over-stuffed-pinata, hit by a sugar crazed mob of six-year-old's.
It was an emotionally draining process. I had to dig so deep for much of it. As luck would have it, fresh heartbreak proved to be an excellent motivator and source of inspiration in digging up the past. That's not to say it's all dark and twisted, it's definitely not. But to get it as real and raw as possible I had to dig deep and spend many a night crying my effing eyes out.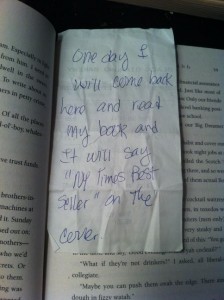 My book mark…. Big dreams baby! Big dreams.
So now that all of that's behind me, I'm so goddamn bored! I actually picked up a book and started reading someone else's memoir for the first time in years. It felt nice to get outside my own twisted and jumbled brain and into another writers. I'm beginning to understand why writers are such a breed all to themselves. It takes a lot out of you, damn. I'm exhausted. But exhilarated at the same time.
But I miss it… my little literary baby. I feel like I'm suffering from empty nest syndrome.  Like I put a message in a bottle and sent it out to sea, and now I want it back! I have a feeling when my memoir is sold I'm gonna feel like I'm suffering from naked in front of the entire world syndrome. Not sure what that's gonna feel like, or how I'll deal with it. Guess time will tell. Maybe I'll take a trip to the North Pole when it comes out.  Come back a few months after it's released, so as not to be around when the clothes come off.  Why do I have the feeling my agent and publisher wouldn't appreciate a non-book-tour in the North Pole? Oh well, real and raw is all I know. I'll face the storm head on; in pink stilettos.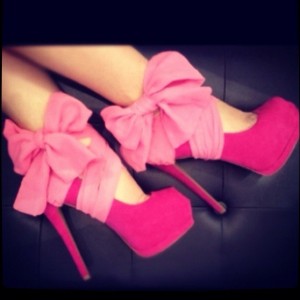 Love…
It's time to read.
I'm a little idiotic when it comes to the reasons I purchase books at
the book store. I pretty much solely buy them for the cover. Yeah I
know… don't judge a book by it's cover... blah blah blah. I do.
I almost NEVER read the back "pitch", or the sleeves, or anything other
than the subtitle. If the cover looks interesting, and if it's
positioned in the "top pics" or "best sellers" section,
I'm all in. I like to dive into a book knowing nothing about it. That
might however explain the stacks and stacks of books with amazing covers
lying around my house half read. Especially now that Oprah is no longer telling me what to read. (sigh).  It makes this all very difficult and confusing. Trusting my book-cover-radar is what has been getting me by now that I'm Oprah-book-club-less.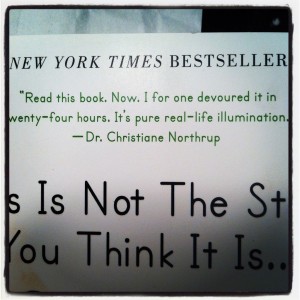 The inscription at the top… goal #5.
So… here's two books I'm currently reading, to keep my mind from turning to mush while I wait for mine to be sold…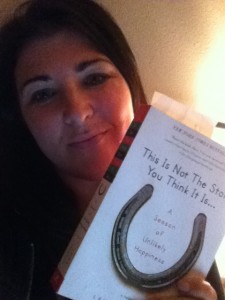 Reading in bed… cool cover right??
This is Not The Story You Think It Is ... a Memoir
by Laura Munson
Follow Laura on Twitter
(she follows me!!)
So far I'm really digging this book. I love her writing style. It's casual, and she swears way more than I do, which makes me feel semi-normal. I love that. Sometimes she takes what feels like an
ADD tangent road,
that I'm left questioning  why I'm on, but I'm here, enjoying the ride. I like interesting writing. This is that. It's smart and witty and real. I like not being able to guess what's about to happen. I love writing the reads like someones actually thoughts.Her story is similar to mine in some ways. Dealing with a marriage that is on the rocks, then deciding you can change an outcome with the power of your thoughts. The conscious decision to expect a desired outcome. Impressive stuff. Her background couldn't be more different than mine and at times that makes me feel isolated from the story, like it's a world I cant relate too. But the parts I can, are moving and pull me in.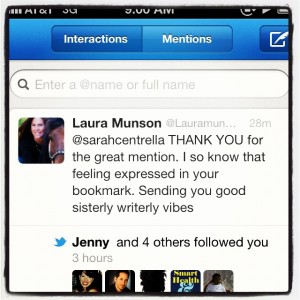 And this is why I love Twitter! (after reading this blog post)
Let's Pretend This Never Happened (a mostly true memoir)
by Jenny Lawson 
Follow The Bloggess on Twitter
I'm
crazy excited
about this book! I snagged the last copy of it at
Target
tonight. It's written by my favorite blogger
The Bloggess
. I'm basically her groupie, no lie. She's freakin amazing! This is her first book, a memoir. She is my idle.
Fucking hilarious.
She's real and brilliant, and I pee my pants half the time reading her posts. I'm watching her journey closely from blogger to published author, and know this book will hit the
New York Times Best Seller List.
I'm delighted for her success. She is blazing the trail and I love her for it. I'm sure the book will have me laughing out loud (not just lol-ing!). And I'm super proud to say she follows
me
on
Twitter
🙂
The Bloggess on her book:
" You should probably go buy it right now, because it's filled with
awesomeness.  And cocaine.  But only if you hollow it out and fill it
with your own cocaine.  I'm not buying you cocaine.  Because I love you.
And that's why you should buy my book.  Because I'm saving you from yourself.  And from cocaine.
YOU'RE WELCOME."
And that, is why I love The Bloggess!
Happy reading!
Sarah Centrella is the author of the book Hustle Believe Receive which teaches you how to apply the #HBRMethod to change your life and live your dream.
Follow on social media: Instagram | Twitter | Snapchat | Pinterest | YouTube |Periscope @sarahcentrella