Dear Facebook
Dear Facebook,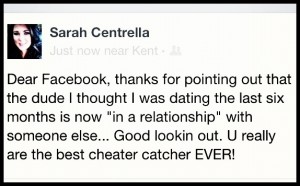 Thanks for pointing out that the guy I've been dating the last six months is now suddenly "in a relationship" with his "ex". Good lookin out. What would I do without you, to catch the cheaters for me??  Like for real. You're great at it.
For example:
If you notice a post on your man's wall in which some girl is calling him "booboo" and he hasn't had a chance to jump on and delete it, or hide it from his timeline… that's a good indicator that something might be up.
And when you ask said girl if she accidentally called your man her "booboo" and she replies, "nope think i got it right"…. That's when you think to yourself; "Hmmmm I'm so glad I have Facebook, because I can't believe shit anyone says anymore!"
For example:
Him: "Oh that girl? She's just my "ex".  She still thinks one day we'll get back together, but you're the only girl I'm talking to or want to be with. I promise."
Next day:
Him, Her "In a relationship" on Facebook.
Again, thanks Facebook for clearin that up for me! Total life savor!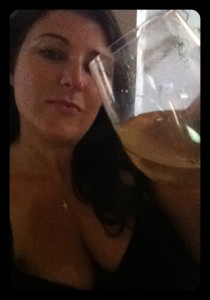 Cheers!!!
Sarah Centrella is the author of the book Hustle Believe Receive which teaches you how to apply the #HBRMethod to change your life and live your dream.
Follow on social media: Instagram | Twitter | Snapchat | Pinterest | YouTube |Periscope @sarahcentrella