The Secret: WOW I Manifested That!!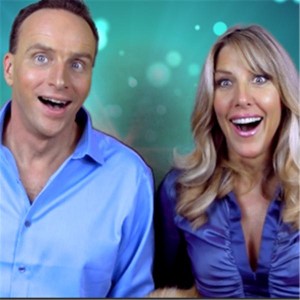 Bob Doyle and Lynn Rose
OK so this blew me away yesterday! A total pinch me moment.  Manifestations are so awesome, because they come when you least expect them and from directions you would have never been able to guess or plan out.  This is EXACTLY why its so important not to ever get hung up on the "how" they will come true, instead just trust that they will when the time is right.
So as you probably know by now I watched the movie The Secret and Oprah's shows on it when I was pregnant with my twins in 2007.  Bob Doyle is one of the featured experts from the movie The Secret which was so influential in getting the light to begin to go on in my head.  Well a few days ago I saw a contest he posted on his Facebook page asking for people to write in with their stories and the message they'd like to share if given the perfect audience.  It said he'd pick five winners for a one on one strategy session on how to get your message in front of the world, as well as exposure via his radio show. 

I was like holy crap! Pick me! Pick me! And yesterday I got a message from him saying he'd done just that 🙂 Thanks Hustle.Believe.Receive.!
So yesterday I spoke personally with Bob Doyle and his co-host media personality Lynn Rose live on the air as they asked about my story and how they can help me share it with the world.  Yep, the very same person I'd watched in 2007 before I even knew how to dream, or knew what the Law of Attraction was, was now asking me how he could help take my dream to the next level…. goose bumps anyone???? I sure have em!
Dreams come true.
Click here to listen to my live on-air impromptu interview with Bob and Lynn (I come on 36 minutes into archive).
Sarah Centrella is the author of the book Hustle Believe Receive which teaches you how to apply the #HBRMethod to change your life and live your dream.
Follow on social media: Instagram | Twitter | Snapchat | Pinterest | YouTube |Periscope @sarahcentrella