Review of: One Third Crazy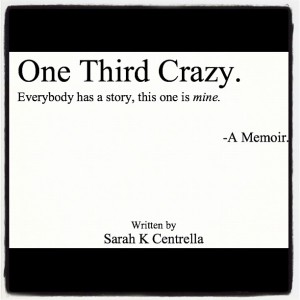 *The following is a review/comments on my personal memoir One Third Crazy. It's written by a fellow writer whom I went to high school with 18 years ago but have not kept in contact with since, until a few weeks ago. I feel it's a good representation of the reaction I've gotten from the select group of people I've allowed to read it prior to it being sold and published.  
Note: everyone who's read it has done so in 24 hours or less which just blows my mind!!! So honored and humbled by her words…. 
Dear Sarah,
I finished your book 
at 2 am
 this morning
(had given it to her that afternoon! AND she read the whole book on her phone!)
. Once I started I couldn't put it down. It grabbed me the minute I began reading it. You had my attention and my heart. You not
only have a story but you have a gift to captivate your audience. I had no idea in high school what you
had gone through up to that point in your life. Or what you went through after Heather's death. Things no child should even have nightmares about much less live through. Heather's funeral was my first one too and I had definitely never seen an open casket either. I am so sorry for all your pain. Your life experiences as a child are incomprehensible to me. You made it real and I lived it with you as your words flowed off the page into my heart. My heart was ripped out throughout your entire book as I empathized with your heart wrenching experiences.
I am like you, as you mentioned about 
9/11
. How you took on others heartache as your own. My mind truly can't comprehend how you are a beautiful, loving, vibrant, compassionate young woman and devoted mom. Especially considering the role model you had in your life. Who you have become and
done through all the turmoil you have experienced is nothing short of a miracle. You have chosen to change your legacy and not be a product of your past but have chosen to mold your future. Wow!!
As I read your story I saw many commonalities we have. Your dedication to your children is beautiful and they are so blessed to have you as their mom.
 Your story is riveting and certainly not for the faint of heart. Your ambition,drive  and love in your heart will sustain you and take you far. I wish for you a perfect prince to genuinely sweep you and your kiddos off your feet and live truly happily ever after. And treat you how you deserve to be treated and taken care of.
Your ex husbands actions, behavior and motives are heart wrenching and tears flooded my cheeks as I
doubled over in pain for you and your little ones. What a fraud! The man for you is out there he has to be. One day…
Thank you for an amazing journey of your life. For sharing and putting yourself out there. Seriously I know you didn't make this up but it is like a Hollywood script that should be on the big screen.
I look forward to talking with you tomorrow and I can't thank you enough for letting me read your story and for putting yourself out there. Amazing!
If I saw you I would so give you a hug. So I send you a hug because I am a huger. Anyways. Thank you again for sharing I am honored and glad you let me have a preview.:)
Love,
Meriah
Sarah Centrella is the author of the book Hustle Believe Receive which teaches you how to apply the #HBRMethod to change your life and live your dream.
Follow on social media: Instagram | Twitter | Snapchat | Pinterest | YouTube |Periscope @sarahcentrella