Does Hustle Believe Receive Work? Yup.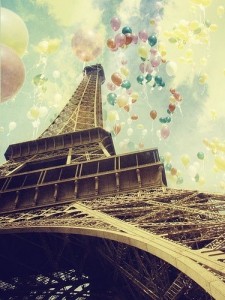 Happiness….
This is gonna sound crazy.  But I think the number one reason I've not been blogging much lately is because….. I didn't know quite how to say, I'm happy.  Crazy right?  But not only that, I feel really blessed because it feels like every day I'm getting more and more of that abundant life I've had on my Future Boards for so many years, and how do you say that without sounding…. shallow? Or arrogant?
So I've been kinda quiet. I've been quietly enjoying more manifestations than ever before, and a greater sense of accomplishment and joy in more of the experience I've been dreaming and working for.  But then tonight I thought, what the hell Sarah? You're not afraid to say all the shit that goes wrong in your life, why be afraid to share the good stuff?  Plus it's just more proof that this really does work!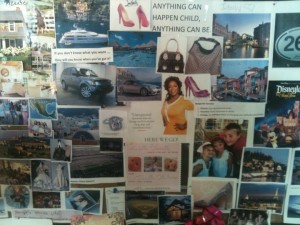 My original vision board, Disneyland on the right and the Gucci bag top center
So if you've never heard of the Law of Attraction (maybe you're a new reader) or if you're struggling with the concept and want to know if it works… I'm happy to say yet again, that YES IT DOES!
Case in point #1:
I've had a picture of Disneyland on my vision board for five years.  And for at least that long I've been promising my son that I'd take him.  Well that promise started a long time ago when my twins where too young to go, but now they are five and fully aware of what Disneyland is, and were not to happy to learn that Kanen and I had been planning on making the trip one day.  So I decided to look on Alaska Air and see if I'd earned enough miles this last year flying back and forth to see my friend in DC (splitting tickets) to take the kids to Disneyland.  I knew it was a stretch as I'd only accumulated 45,00 miles… I searched all day New Years day, and by the end of the night had found four tickets worth my 45,000 miles!! Yep, I got all four plane tickets (about a $1,600 value) for under $100 total. I ran into the kids room told them "we are going to Disneyland!"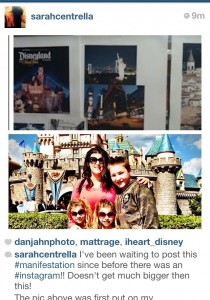 In Feb of 2013 I was able to take all 4 of us to Disneyland!
Case #2.
I've had a picture of a Gucci bag on my original vision board that hangs above my fireplace for five years.  And then last year I pinned this exact same bag to my Pinterest vision board. This Christmas, under the tree was not only the first Christmas gift I've gotten in years it was a newer version of that Gucci bag from my best friend.  I couldn't believe it!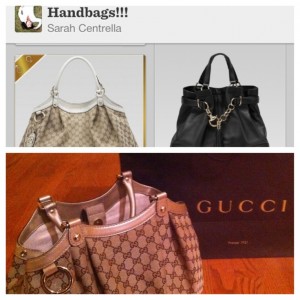 Case #3.
I've struggled the past four years (or most of my life) financially trying to get on my feet.  To "get caught up".  I've always lived paycheck to paycheck regardless of the title of my job.  It's just always felt like the odds where stacked against me when it came to really making enough money to live off of.  It took almost a year on my current job to start making commissions for the deals I closed (just the normal sales cycle), but now that patience is finally paying off, and I'm for the first time ever, getting comfortable.
I stopped worrying about money several years ago, even when times got really tough.  I just literally refused to stress about it, think about it or dwell on it. I'd let it consume my thoughts for so long in a negative way that I knew I had to just let that go. It took a while, and I had to actively retrain my brain, but I got there.  I went about working hard, and in my head was living the life and lifestyle I wanted. It meant that I had to get creative sometimes, finding ways to have the experiences without money being an issue (most of the time manifestations just came and it wasn't an issue either way).
But about six months ago I realized I was missing a component to that belief.  I was manifesting these amazing experiences but still struggling to pay the bills, and had nothing left over for "living".  My long standing belief was that I'd always "find a way" and that we'd "always be OK"… I'd trained my brain from "I can't pay the bills there is never enough (and there never was and I couldn't pay them).  To "I will find a way and everything will be OK" (and some how it was enough and we were making it).  But I still wasn't comfortable or free.  I was still bound by a lack of financial resources.   When I realized this, I began to analyze what I really wanted, was it to simply survive? Or was it to find freedom and success? Long term I wanted more than survival.  I wanted the flexibility and stability of knowing I can live the life I want and maybe money does need to be part of that equation.   To say I wanted "money" along with the experiences, felt selfish and wrong at first.  But I made a new mantra and said it everyday ("I am happy, I am blessed, I'm beautiful and I have MORE than enough for me and my family").  Once I made that mental shift things began to change quickly. I made a promise to my son that's we'd never "run out of money" again, and that was just the start.   Since then my income has doubled at work, I've been taking on more Life Coaching clients and as a result, I've been able to payoff all my debts.  Finally been able clean up credit issues remaining from my divorce, plan this vacation, have a great Christmas for my kids, and even bought my first pair of designer shoes this week.
This blog is proof ,in real time, that you can live the life you desire without money.  Almost everything I've manifested has been at no financial cost to me.. and THAT should be the most exciting thing you get from reading my blog!  Especially if you're financially where I started out.  I have many posts that teach you how to overcome money as an obstacle in your life.  However, I've realized that I'm now at a new phase of this journey, one where it's time to dream bigger and expand my expectations. This has always been the case as I've grown the past few years, getting to that place where you need to readjust what your expectations are, need to think bigger.   Now I'm ready to go for it ALL.  Not put limits on what I'm "allowed" to expect.
These are all firsts for me. Ever in my whole life.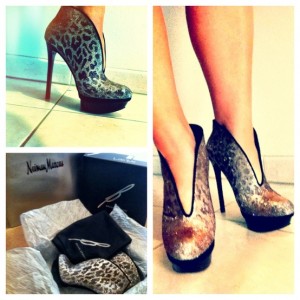 My first splurge, first ever new designer shoes and first purchase at Niemen's
I'm not suggesting in any way that this magically happened over night.  I'm saying that I've been working hard the last year at my job, even in a place I don't like living, and dealt with a lot of difficulty this past year. But I pushed through it rather than give up, and now a year later am seeing the results of that work, dedication, vision and faith. You must have all these components to get results.


Case #4.
I remember watching The Secret movie years ago and one of the speakers said something like, they used to live paycheck to paycheck and all they ever got in the mail was bills. Then one day all they started getting was checks. I was like "yeah right!" That always pissed me off for some reason (maybe because they forgot to mention the years of WORK that happen between point A and point B) but today that actually happened to me.  I checked my bank and was surprised to see a deposit of $177.00 I looked and it was for AdSense from Google, something I've never really paid attention to and had forgotten about after setting it up.  I'd never looked to see if anything had been accumulating, nothing. It just showed up.
Abundance is a concept I have never thought I had a right to… all my life. I knew I deserved "the good life" but I thought I'd always be struggling and fighting for it, the concept of achieving freedom never really accrued to me.  Now I'm not saying I'm even close to that, and surely AdSense wont ever get me there, but in general I know now I'm on that path.  I've struggled enough to know how to manage success when it comes and I'm wise enough to realize I have worked hard and deserve the rewards.  I know I can survive anything, should it be gone tomorrow I'll be just fine, I always am….. but maybe I should stop living as if that's always going to happen and start living as if I'm going to forever change that destiny.
Case #5:
This Louis Vuitton bag has been on my vision board for years, and is a discontinued style. One day at brunch my girlfriend told me that her sister had a designer handbag consignment business.  She pulled up the site and there was the exact bag that was on my board for half the retail price. I'd just earned my biggest commission check ever, and was able to for the first time buy something like that for myself. I can't tell you how amazing that felt!!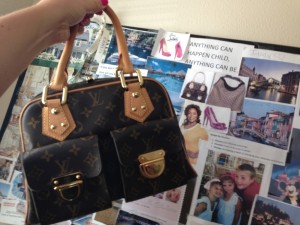 The EXACT bag that is on my vision board!
This feels so good…. I can't lie. I want this for you… if you're struggling and are where I've been and need help braking that cycle and getting after your dream life, write me/comment/ FB me whatever…. I'll help you get there anyway that I can. But all my examples and tips are here on this blog. If I did it, you can to!
Sarah Centrella is the author of the book Hustle Believe Receive which teaches you how to apply the #HBRMethod to change your life and live your dream.
Follow on social media: Instagram | Twitter | Snapchat | Pinterest | YouTube |Periscope @sarahcentrella