Parenting: Epic Fail.
My parenting epic fail.
The worst feeling ever as a parent is to let your child down. I try so hard to limit that disappointment for my kids because so many outside sources will, and have disappointed them already. So I try at all costs to make sure that it's at least not coming from me.  But life is life right? Shit happens and no one's perfect.
Today I let my baby girls down. My office is roughly 90 minutes from home/their school and their kindergarten graduation was at 2:15 today, in the middle of a work day. I left work as soon as I could slip out (three hours early) and faced the ridiculous stop and go traffic that is constant in Seattle. I sped breaking all kinds of laws whenever possible, but the ceremony was scheduled for only 30 minutes.  There was just no way I could make it in time. I parked as all the other parents were streaming out of the school with their graduates, gifts in hand.  The front desk ladies gave me the look of sheer disappointment, and said I could go get the girls from class, that's where the kids who's parents hadn't come to the ceremony were awaiting pickup.  I ran back to the girls classes, and both of their teachers gave me that look, the one that said; how could you? Who does that? Miss their kids Kindergarten graduation? 

I fought back tears when I gave the girls big hugs and told them I tried, did all I could to get there in time; "It's OK Mama" they said, but their faces looked broken. I've never missed anything they've done before. "You weren't there Mama, when we looked out we didn't see Kanen or you. We had no family."
How do you explain to two six year olds, that you tried? That you took off work early, that you broke speed limits, did your best, when all they will remember is that my mama didn't come to my graduation. And as a parent, as a single parent, how do you forgive yourself?
As a single parent, one in my specific situation with no family and no friends within 200 miles, when you can't be there, that means no one can be there.  No aunts, uncles, grandparents. That's so much fucking pressure. And the only thing they will remember is, I wasn't there.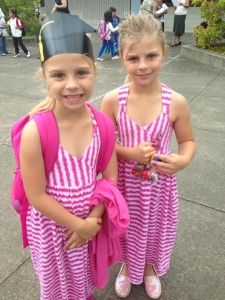 my little graduates….
And then I'm reading my son's essays with him, and we come across one about basketball, and secretly I get excited.  See basketball is our thing.  We watch it together, we play it together.  I'm out on the court guarding him, helping him work on his free throws, coaching his mental game.  I'm at all his games, pay for all his team stuff, buy his shoes, support his passion, take him to NBA and college games, introduce him to his favorite players. Basketball is our thing.
And I read it out loud to him, fighting back the emotion of reading how he "learned to play from his dad, and how he wants to grow up and play like his dad".  No mention of all the time him and I devote to the sport, or me at all.  And it stings, and I'm trying to make sure my voice stays steady as I read, that it wont betray me. Because I know his dad doesn't play with him, I know he plays alone when he visits there.  Accept for the rare occasion when he spends a few minutes with his son, those are the days when I pick my son up from a visit and he's beaming; "papa played basketball with me today!" My heart breaks for him.
Day's like today make being a single parent seem so fucking unfair.  They are the day's when you wish you could explain to your kids the real deal, get them to see it through your eyes, but you know you can't and that it's not your place.  You just sit back and send up a prayer and hope to God that what they remember is all the times you are there for them, all the events you never missed, all the practices you left work early to get them to, and the concerts you moved business trips to be sure you could sit front row. You pray, and try not to think of what an epic fail you feel like on days like these.
Sarah Centrella is the author of the book Hustle Believe Receive which teaches you how to apply the #HBRMethod to change your life and live your dream.