Derrick Malone Jr: Inside the Mind of an Athlete
*This is the first story in a 5 part series titled "Inside the Mind of an Athlete". Check the link to learn more about the series and see who else will be featured in upcoming articles. 
I chose to feature Derrick as Part 1 of this series because I've always chosen to associate myself with players who have a similar positive mindset. Ones that are focused on their goals, determined to stay grounded through the process of fame and success, and who are constantly looking for ways to grow and become better.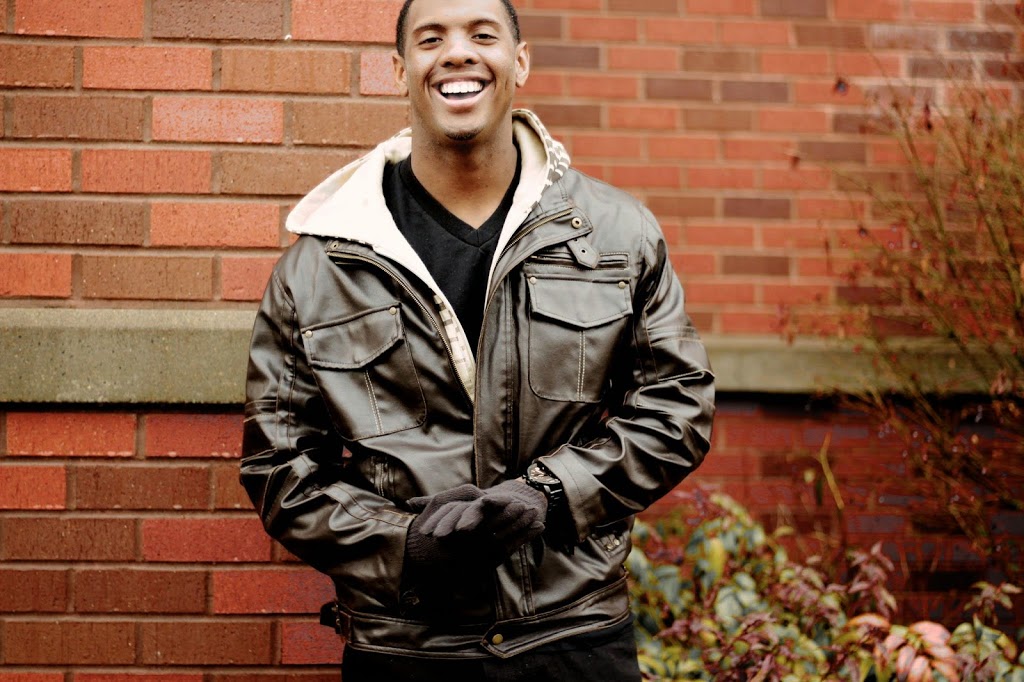 Derrick is known for his contagious smile and upbeat personality
Derrick Malone Jr. embodies these qualities. As the star starting linebacker for the Oregon Ducks Derrick has always impressed me with his positive attitude, uplifting social media posts, and general demeanor, so I was thrilled when he agreed to let me interview him for this piece. I wanted to know if what I've learned so far about the law of attraction and the connection I've made with it and athletes was true for him as well. I wanted to see if he lives his life by these principles without even realizing it. I have to say I got goosebumps with many of his answers, seeing once again how the simple formula Hustle.Believe.Receive. really does apply.
Malone grew up in the Southern California town of Culton, a community known for turning out pristine football athletes from it's high school. As a kid, Derrick remembers how football was always part of his life from a very young age, even though he didn't formally start playing until the 8th grade. But it was always there, his father Malone Sr. was an excellent running back in high school and had dreams of his son playing quarterback. But, Derrick was more interested in baseball and basketball, even though he spent every evening playing football at the park with his friends, or at recess or before and after class, he still wasn't sure it was what he wanted to do. It wasn't until his breakout game playing safety his junior year of high school, that he realized, maybe he was actually pretty good at football, as the college recruiters began circling like flies. It was then that he finally began to see what his family and friends had known for some time, that he had a gift and that gift could change his life.

When I asked Derrick where his confidence comes from today as a red-shirt Senior and a key part of Oregon's defense, he says without hesitation; my family. Growing up our home was full of love. My mom, dad and grandmother believed in me to the fullest. They instilled that confidence in me, told me to never settle, and to always expect more, that I "deserved it." That core foundation helped Derrick get to the place he is at today, one where he truly believes in his ability, the future and his ultimate dream.

Derrick's first "impossible dream" was to play football for the University of Oregon. It had always been his top choice for colleges, and when they were the first to show interest in him, and ultimately the one he accepted a scholarship from it was the realization of his first ultimate dream. It was life on a grand scale, ESPN highlights, featured games on Saturday afternoons. It was more than most young players could ever dream of; the fulfillment of his big dream, being part of one of the top football programs in the country.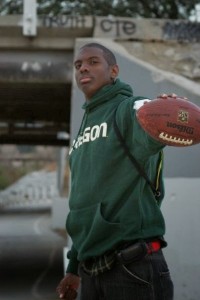 So I had to ask the Oregon Senior…

Sarah:  What is your ultimate dream now?
Derrick: "To get drafted into the NFL."
Sarah: What makes that moment your ultimate dream?
Derrick: Because it makes everything you've done along the way, all the sacrifice, all the things you miss out on, worth it.  It's the payoff. There are a lot of limitations that come with the responsibility of being an athlete, my life is not like the life of a 'normal' college student, there are sacrifices, and struggles that come with the glory moments. It's the proof that all those little things really meant something. It's the reward for putting in the work to  graduate with two majors, and the moment your family can be so proud of you.  It's an opportunity for me to be a role model to the younger generation and make an impact on others and help change their lives. This is what we work for. That validation, that reward.


Sarah: Do you ever visualize that day? Imagine what it would be like?
Derrick: Of Course! Every day. It's a lifelong thing. I close my eyes and visualize, I constantly daydream about it, all day every day. It's a way of life. It's been like that since I was a kid, I've always been able to make a movie in my head and focus on it. Football is a way of life, it's who I am, it's in my blood, it's my family, my belief, it's more than a game. It's all day every day working towards that goal.
 
Sarah: When did you realize this was your ultimate dream?
Derrick: Honestly not until I got to college, probably my sophomore year. Even though my family always believed in me and told me I was the greatest, I don't think I really believed it. In a lot of ways I think that's what's kept me grounded, always wanting to work harder and be better. But my sophomore year my coaches were the ones who really instilled that dream in me. They told us every day that making it to the league should be our goal, that we should work every day for it and that it was possible. I knew the odds where small, but I wanted to be part of those small odds. And over time I began to really believe it.
Sarah: Do you believe you will be drafted into the NFL?
Derrick: Absolutely. Everyday I get better. I'm better this year than last year, and way better than I was in high school. If I can improve like that with work and dedication then there is no reason I can't continue to improve and make it to the league. It's a progression and a process, it's not overnight, but I know it's possible if I stay focused and keep working. Anything is possible!
Sarah: Have you ever wanted to quit or give up?
Derrick: No. Never. I never quit, it's not in my nature.
Sarah: What do you do to motivate yourself when you have a bad day? 
Derrick: When I need motivation all I have to do is call my mom. I hear the pride she has in me, and it makes me smile, and it just makes me want to make her even more proud. That is why I do this. And I do it for my Aunt who passed when I was in high school. She was my biggest fan, she believed in me and was so proud of me. I dedicated my senior season to her in high school. I wish she could have watched me play at Oregon. Every day that I want to quit I play for her. Those moments when you wanna give up you remember why you're doing it and it keeps you going. You think about the moment you're working for and helping your family and you just get back to work.
Sarah: What is one moment you've lived out that felt like standing in the middle of your dream?
Derrick: Running out the tunnel to play in the Rose Bowl. I had watched it as a kid at my grandma's house and remember thinking those players looked so big, and it seemed so impossible, and then I lived it. Being with my family and sharing that experience with them, and holding the trophy after we won, it was the happiest moment of my life. A dream come true.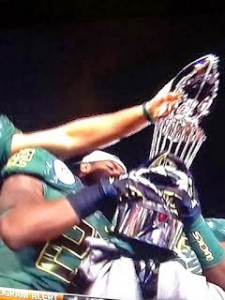 Derrick holding the Rose Bowl trophy
Sarah: What's your daily hustle? 
Derrick: Win the day (Oregon's mantra). It's tatted on my arm, and it's what every day is about for me. Just go out and no mater what I'm doing, practice, a game, training, eating right, or choosing not to go out, all of that is my hustle. It's all part of just winning today.  

Sarah: So what's your dream once you are drafted?
Derrick: To renovate my high school locker room and weight room. I want to make my school, family and community proud. I want to give back.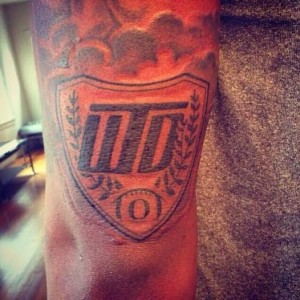 Derrick's motto WTD (Win The Day) Tattoo, a constant reminder of his hustle.

Like I said, I got chills listening to Derrick talk about how he practices the exact same things I've been teaching on this blog and in my coaching classes. He's applied the formula (without even realizing it) and has achieved the same results. He's drawn on coaches and family to help him build his belief when he needed it, and over time it became his reality. I also love how his dream grew and changed over time. How at each stage he began to dream bigger, once his confidence and belief grew. And, of course I LOVED the fact that visualization is a constant in his life, not even intentional at this point, just automatic. And, as we know there are no results without the hustle. I loved how Derrick takes that just one day at a time, and when he wants to get down on himself he looks back and sees how far he has come. But one of the most important things he said is something I hope each of you take away from this, it's a process. It's a life long journey. It's not something you do to get to a goal, it's who you are. It's what you believe in, what you eat, live and breathe. You've got to be committed to making this your new life plan if you want to see results.

Thanks Derrick for inspiring us and reinforcing our belief that anything is possible!


About Derrick:
Derrick Malone Jr is a journalism and advertising major at the University of Oregon and a starting member of the Duck football team. He is also an up and coming writer and poet, sharing his positivity and passion. Be sure to check out his blog: I am Poetic Soul and follow his twitter to learn more about him, and watch his dreams unfold.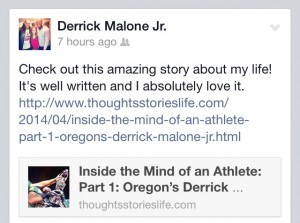 Be sure to read the other stories in this series:
Week #1: Derrick Malone Jr -Current Oregon Linebacker
Be sure to read Derrick's inspiring true story in my new book #HustleBelieveReceive