Kenjon Barner: Inside the Mind of an Athlete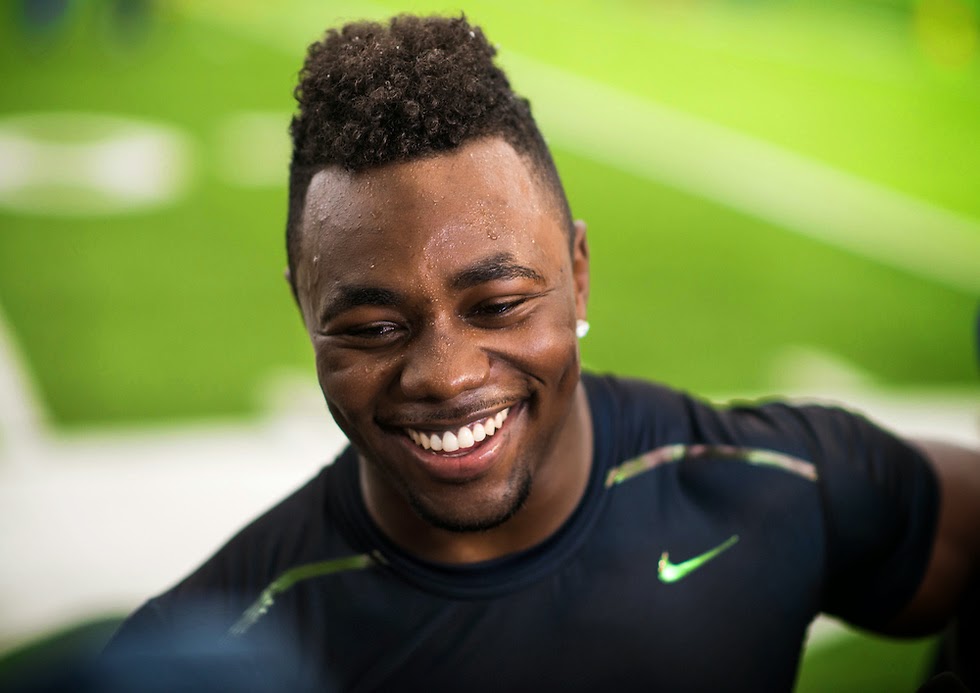 The always smiling Kenjon
This is the third story in my four part series; "Inside the Mind of an Athlete".  And this story is all about how you adjust to life once you've achieved your Ultimate Dream. It seems so easy, but like everything else it's something that you need to prepare and plan for, because adjusting to living your dream can actually destroy you if your not prepared for it.
Meet Kenjon Barner, former star running back for Oregon. I asked Kenjon to tell me his story, share with us his dream and how he's been able to achieve so much at such a young age. This is his story…
Kenjon grew up in a home full of love and competitive brotherly rivalries, his parents had their hands full; six boys and a girl.  So from a young age he learned that confidence was king! Being great at basketball gave him that confidence from the start. "I played basketball from the time I was three years old, it's all I ever wanted to do." He tells me when I ask him when football became his dream.  "I wasn't really even thinking about football, I'd never played it, except with my friends in the yard growing up. But basketball was what I loved and was good at, and it's what my family expected me to play." 
Kenjon: In seventh grade (he laughs a little). My dad came to wake me up to go to practice, but I didn't wanna get outa bed, so I told him I wasn't going. I said I wanted to quit. My dad looked at me and said 'then what are you going to do?' It was such a huge part of my life, it's like how do you quit the one thing you spend most of your time doing?  I looked at him and said 'I want to play in the NFL'."
Kenjon had never played football before, hadn't studied the plays or warn a uniform, but when he said it out loud to his dad, and later to his friends they knew he was serious. When he set's his mind to something, nothing stands in his way. "I'd always been a confident kid, growing up with five brothers you kinda have to be. I've always believed in myself."
"But all through my freshman and sophomore year of high school I was just thinking, man I gotta find a way to get a  job when I graduate high school. No one in my family had ever gone to college, it's just not what I was exposed to, not an expectation I had. But my junior year I got a scholarship offer to play football, and I thought 'wow that's crazy' but in the back of my head I was still thinking I need to get a job.  But my mom was like, there is no way you are not going to college now! And by the end of my junior year I really got to that place where I believed it was possible for me."
Sarah: When did you start to think that the NFL could be a reality for you? When did that become your dream?
Kenjon: As soon as I got to college, I was determined to make it to the NFL.  Football had gotten me this far, I knew it could take me all the way. 
Sarah: What was it like for you on draft day?
Kenjon: The most stressful, annoying, frustrating, happiest three days of my life! My agent had warned me not to watch it live and to just wait for a call, but of course my family and I watched it non–stop. But then when I got the call from Carolina on the third day, wow that was amazing. It was such a celebration for my whole family. It was the happiest day of all our lives. 


Sarah: So you've achieved your Ultimate Dream, you've been drafted into the NFL. What was the experience like the first time you put on the uniform, walked into the stadium and took the field as a Panther?
Kenjon: My first pre-season game I wasn't nervous. I thought something was wrong with me because I just felt so calm. This is what I've dreamed about, have worked all my life for a moment like this. Looking up in those stands and seeing thousands of fans I was just thinking, wow this is so crazy.  And as soon as I got out there they called my play as the first play of the game, and then suddenly I was a nervous wreck, taking the field for the first time in the first play of the game. They give me the ball and I fumbled it, and we lost position of the ball.  When I make a mistake like that, I can't let it go. I chose not to let it go, because it motivates me and keeps me present. I take that negative energy and channel it for motivation. And the next time they called my play I was ready, I ran the ball for a touchdown. 


Sarah: Had you ever visualized that moment and did it feel the way you expected it to?
Kenjon: In order to do something you need to be able to see yourself doing it. I visualize the game before I play, I see myself running for a touchdown. Then when it happens I'm not surprised because I've seen myself doing it and I'm prepared. I think of it as God gave me that vision, allowed me to see it, and then he enabled me to live it out. 


Sarah: At Oregon you were a huge star, what's it like to be living your Ultimate Dream, yet be the "unknown" rookie?
Kenjon: For me it's easy, I've always had to wait my turn. Sit and be patient, watch and learn. My dad always says 'What God has for you, you're gonna get.'  If you do what your supposed to do, and put in the work, then what's meant for you will come to you. You have to trust the process and be patient and know that if you do all the preparation, then when your turn comes, you will be ready.


Sarah: What's been the most challenging part of your transition into living your dream vs. working to get it?
Kenjon: Adapting to the lifestyle is always challenging. But I have great guys on my team and they talked to me about how to be a man, and how to handle my responsibility. How to deal with the girls, money, and life. Those conversations really impacted me. Those guys really took the time to show me the ropes. I've always surrounded myself with good people and people I admire.
Kenjon: To be a valued member of this team, and of course to win a Superbowl! And to give my son all the opportunities I possibly can.
I absolutely believe that if you set a goal and a dream you can achieve it. I verbalize a goal and believe it, and know I'll achieve whatever I set out to do. My Junior year of high school when it came time for the awards, I missed the award for first team all-state. I felt robbed, after the awards I was upset and told my dad I would 'make 'em pay'. I told him 'I'm gonna score 40 touch downs and rush for 3,000 yards next year.'  The next year I scored 48 touch downs and rushed for 3,024 yards.
You've got to believe it with that kind of confidence. If you don't believe in it then how can anyone else? People thought I was crazy, but my family knew that if I said it I would do it. You've gotta have that faith that confidence. And always keep your hand in God's hand. 
Sarah: What motivates you?
Kenjon: Fear of failure. I want my son to know that his dad was not a failure. Not letting myself down and being accountable to myself. And the fear of not fulfilling what God has blessed me to be. I know he put me here for a reason, I want to maximize that potential. 

Sarah: I know you, and I know you're always smiling and positive…. do you ever have a bad day?
Kenjon: (Laughing) Absolutely! But if I'm having a bad day I try not to show it. It's what you do with that feeling and emotion that's important. My mom is huge on detecting that, she calls me 15 times a day and can detect the slightest thing in my voice.  Her and my sister, they sense it, and they always know the right thing to say to get me out of it. I love my friends and family. I mean I really LOVE and appreciate them, I know they are always there for me. This job is stressful so you compartmentalize people, the ones who bring drama get a very small space if any, the ones who are there to help you be a better person are the ones you keep. 

Sarah: What's your Hustle?
Kenjon: Hard work. Sometimes three workouts a day. It's being away from your loved ones. And always trying to get better. If you're not willing to work hard, don't expect it to happen. 


I've had the honor to know Kenjon for several years and have always been blown away by the way he thinks and his positive mindset and loyal friendship.  It's really from our conversations over the years that I learned so much about how tangibly success can be achieved. That there was a simple formula and that it didn't just need to apply to athletes, I could apply it to.  So I did. And he really inspired that because as you can see he believes like I do, that when you speak something it holds power. When you believe in something and work for it, you can and will manifest it. And above all be grateful and humble and try to bless others with the talents you've been given. Take his advise, it works!
Kenjon surprising Kanen for his 8th birthday, with Ed Dickson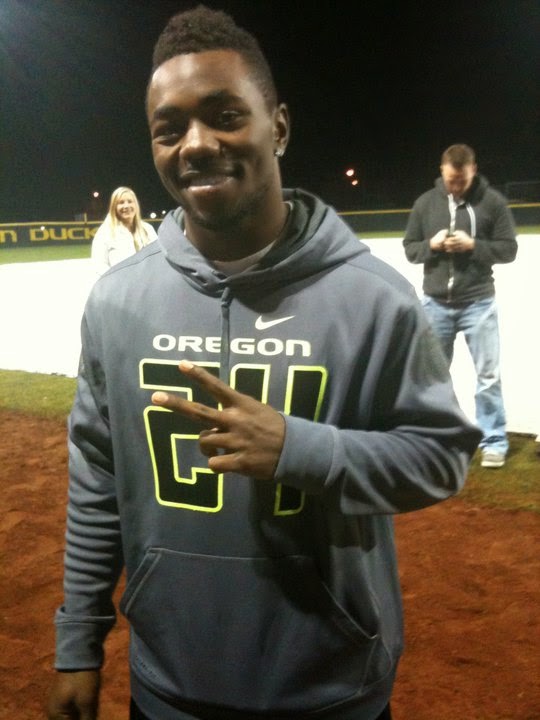 After playing football with one very happy Kanen
Kenjon Barner is a running back for the Carolina Panthers who just finished his rookie season. Follow his dream and inspiration on Twitter.




Be sure to read Part 1: Derrick Malone JR story.
And Part 2: Lavaiser Tuinei's inspiring story. 
Part 3: this one
Part 4: Jonathan Stewart
Part 5: Patrick Johnson 
BE SURE TO READ KENJON'S FULL INSPIRING STORY IN MY NEW BOOK #HustleBelieveReceive