How to Get out of the Black Hole.
I get emails and messages from readers every day, who are at the low point I was at a few years ago. They feel lost and hopeless. Nothing seems to be going right in their life, and they have come across my story and it's inspired them at least enough to share with me these thoughts and feelings. I'm so honored and humbled by this, but I also know that it's in it's self The Law of Attraction at work for both of us. For them because this is the defining moment when their search for better has lead them to connect to my story, and for me because telling it and answering your letters reinforces my own strength and faith. It's definitely a 2 way growth relationship, that I'm so grateful for.
I can relate to the feeling of being buried a live, or being swallowed by a black hole of darkness and hopelessness, I felt that way for so long. I had lost all joy. I stressed 24/7 about the lack of money/food/gas/diapers, the basic necessities of life. Always wondering where rent was coming from…all of that. I've basically lived most of my life with those feelings and stresses consuming my thoughts. It was a vicious dark circle. I always felt like the weight of that stress was going to be the death of me, and sometimes it felt that dark.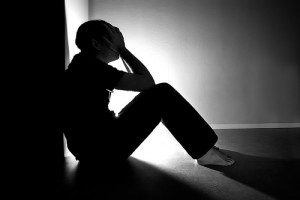 It wasn't until my husband left in 2009 that through the pain and loss, I began to grasp the concept of "blessing in disguise" or "
everything happens for a reason
".  When I was able to take a step back and really look at it, I suddenly felt a sense of empowerment and freedom.
The Law of Attraction
gave me that extra "it" that I so desperately needed. It gave me HOPE. I figured I had nothing to lose, I had tried it my way my whole life and I was sick of that shit! I wanted better. Better for me, for my kids.  I felt like if I could dream again, then I could get the life I had always wanted.
So step 1: Want it!
It seems too basic to even make into a bullet point, but trust me it does not go without saying. You have got to want it. You've got to be fed-up like I was and at the point where you are willing to want it, and willing to believe. Even if you look around and life seems super crappy. Your circumstances suck, your life seems to suck.
I don't know if anyone has ever told you this before or not, but….whatever you WISH your life looked like, YOU can make that happen. I don't care if that seems ridiculous right now. I don't care if you don't know anyone around you who's "successful" (in all the various ways people can be, financially, socially, lifestyle, happiness) that doesn't affect your RIGHT and your ability to make the life you want for yourself. Regardless of how helpless you feel to change, YOU CAN.
Here's how:
If you really want to break the negative cycle, and start taking the driver seat in your life, than that's the MOST important ingredient at this phase. YOU GOTTA WANT IT! You gotta want something better, something more. Hunger feeds determination and determination will fuel your dream which will lead to your results. So don't be scared to really WANT IT.
I think this is hard, because when you feel you have been beaten down by the world, part of you doesn't feel you deserve to WANT it. That you don't deserve better than what you have. Don't pay attention to that voice. Don't give it the time of day! Everyone deserves to live the life they desire, especially you.
STEP 2: Begin to Dream.
What do you want?
What would make you happy if you could snap your fingers right now? And DO NOT SAY MONEY! Money is the easy cop-out answer. I want you to think very specifically.
What do you want? Like really?
In that daydream you had as a kid, what did your life look like "when you grew up"? I want you to dream (not about Things, about your LIFE).  I want you to think about the kind of person you will be in 5 years when all this has clicked and your smack dab in the middle of your dream life. Are you working? Doing what? What do you love about it? Why is it fulfilling you? What are your children doing? How old are they in our dream?  Are you taking them to
Disneyland
? etc…I don't know what your dreams are but those are examples of what I need you to think about it.
As you begin to build this movie in your head, think about it day and night. Before you go to sleep, daydream about it. Start making it into the best motion picture Hollywood could produce. Make it 3D baby!  Know all the details of your dream. Picture yourself in an average day, doing average things. What do you look like then? Where have you gone? What have you done?
 Most people don't know how to dream because it's so discouraged in our society. We are taught to deal with our reality. Well I'm giving you 200% permission to go back to that little girl/boy who daydreamed about life, and start dreaming again. Don't be afraid to stretch your dreams imagination….in other words go there…to the place where you push the limits and you dream the big dream!
When you've done this…email me and let me know how you feel and then we will move on to step 3. But take your time, think about it day and night…let it marinate 🙂 We will get you out of this and on to a better place, just believe. 🙂